Current Affairs for SSC CGL Exams – 07 July 2022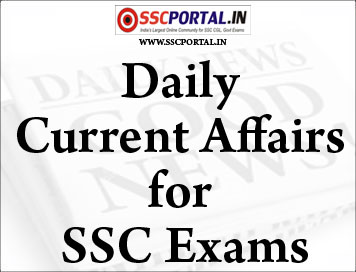 Current Affairs for SSC CGL Exams – 07 July 2022
::NATIONAL::
DUSIB survey to identify slum residents eligible for EWS flats
Delhi Urban Shelter Improvement Board (DUSIB), the slum management agency of the Delhi government, has launched a survey to identify slum dwellers who are eligible for allotment of flats meant for the economically weaker sections (EWS) category under the "Mukhya Mantri Awas Yojna", the agency's chief executive officer Kumar Mahesh.
"A group of 50 graduate and post-graduate students from Delhi University have been roped in for the survey. They have been divided into different teams and each team has an engineer from DUSIB. The survey teams will collect information from the slum dwellers about their period of stay in the JJ cluster, their family details, annual income and source of income, etc. The information is crucial to the process to allotment of flats to the eligible slum dwellers," said Mahesh. 
The cut-off date for eligibility under the scheme is January 1, 2015, which means that those who have been staying in the slums at least since January 1, 2015 can apply for the programme. The intended beneficiaries must also meet other criteria such as the they do not own a pucca house, the jhuggi is not being used for commercial purposes, and hutment must be older than January 1, 2006. The beneficiary must also have a voters' identity card or Aadhaar card issued between 2012 and 2015, officials aware of the scheme details said. 
Once the survey is over, DUSIB will form an eligibility determination committee which will study the outcome of the survey and take a call on the eligibility of the slum dwellers. "Those rejected by the committee will have a forum for right to appeal following the principles of natural justice," said Mahesh.
There are close to 30,000 flats which have been constructed in Delhi under the UPA-era schemes Jawaharlal Nehru National Urban Renewal Mission (JNNURM) and Rajiv AwasYojana (RAY) in the past few years. The JNNURM flats are built with contribution of 50% each by the central and the state government.
::INTERNATIONAL::
'Doing my best': Elon Musk on 'collapsing birth rate' amid twins report
Tesla and SpaceX CEO Elon Musk once expressed concerns about the falling birth rate and said he was doing his best to help the underpopulation crisis.
The babies' mother, 36-year-old Canadian ShivonZilis, has worked at multiple of his other companies, including OpenAI and electric car manufacturer Tesla, Insider said.
She and Musk, who became the richest person in the world last year, in April filed a petition with a Texas court for the children to "have their father's last name and contain their mother's last name as part of their middle name," Insider reported, referring to court documents obtained by the publication.
The petition was granted in May, the site said.
Last month, Musk spoke about the issue of population collapse and joked that he was doing his part in solving the issue while registering his concern about the falling birth rates in the US.
In May, Musk had shared statistics regarding the total fertility rate (TFR) of the United States. TFR refers to the number of children a woman will have. The graph highlighted a steep decline in the rate over the decades, to a point where it is below the "replacement level."
Musk's babies, whom Insider report were born in November, arrived just weeks before the CEO, 51, and music artiste Grimes had their second child via surrogate.
They welcomed a baby girl named Exa Dark Sideræl Musk – although the parents will mostly call her Y.
In total, Musk has fathered 10 children, one of whom died shortly after birth.
Last month, one of his children who recently turned 18 filed a petition in a California court to change her name and gender identity to female.
::ECONOMY::
Power tariff to rise 60-70 paise per unit for blending imported coal: Min
Coal import for 10 per cent blending for the electricity plants to avoid blackouts will result in a rise in power tariff by 60-70 paise per unit, Union minister R K Singh.
This has to be done to avoid power shortage as domestic coal supply is unable to match the electricity companies' demand for the dry fuel, Singh said.
Energy consumption has jumped about 25 per cent and peak demand has also risen by 15 per cent in the last one year, the Union power minister said.
"We have asked power plants to blend 10 per cent imported coal to avoid blackout as domestic coal production is not enough. Imported coal costs Rs 17,000-18,000 per tonne while domestic coal price is about Rs 2,000 per tonne. Due to this, it will result in a tariff rise of about 60-70 paise per unit," Singh said.
::Science and tech::
No evidence of life on Venus found yet: Study
According to a new study, the unusual behaviour of sulphur in Venus' atmosphere cannot be explained by an 'aerial' form of extra-terrestrial life.
Researchers from the University of Cambridge used a combination of biochemistry and atmospheric chemistry to test the 'life in the clouds' hypothesis, which astronomers have speculated about for decades, and found that life cannot explain the composition of the Venusian atmosphere.
Any life form in sufficient abundance is expected to leave chemical fingerprints on a planet's atmosphere as it consumes food and expels waste. However, the Cambridge researchers found no evidence of these fingerprints on Venus.
Even if Venus is devoid of life, the researchers say their results, reported in the journal Nature Communications, could be useful for studying the atmospheres of similar planets throughout the galaxy, and the eventual detection of life outside our Solar System.
"We've spent the past two years trying to explain the weird sulphur chemistry we see in the clouds of Venus," said co-author Dr Paul Rimmer from Cambridge's Department of Earth Sciences. "Life is pretty good at weird chemistry, so we've been studying whether there's a way to make life a potential explanation for what we see."
 ::Sports::
215-member Indian squad for the Commonwealth Games
A 215-member Indian squad will be heading to the Commonwealth Games, to be held in Birmingham from July 28 to August 8, comprising 108 male and 107 female athletes.
While some athletes are either already in the United Kingdom for acclimatisation, training or competition, others are engaged in professional assignments in other parts of the world and will reach Birmingham directly. The rest will depart from India in the next couple of weeks.
The overall strength of the contingent will be 322, including 72 team officials, 26 extra officials, nine contingent staff, including three general managers. Olympic champion Neeraj Chopra will likely be named the flag-bearer at the opening ceremony. Indian athletes will be competing across 16 disciplines.
Download Monthly General Awareness PDF
Download SSC EXAMS EBOOK PDF
PRINTED Study Notes for SSC CGL Exam
Click Here for Daily Current Affairs Archive