Current Affairs for SSC CGL Exams – 08 July 2022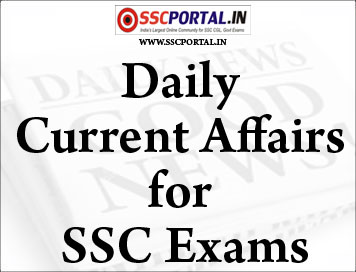 Current Affairs for SSC CGL Exams – 08 July 2022
::NATIONAL::
Chhattisgarh govt approves e-vehicle policy
The Chhattisgarh government approved its electric vehicle (EV) policy on Thursday, aiming to develop the state as a manufacturing hub, protect environment and create employment opportunities.
The policy in which road tax and registration fee waivers are provisioned will also encourage the use of EVs, an official said.
The nod to 'Chhattisgarh EV Policy 2022' was granted during a cabinet meeting chaired by chief minister Bhupesh Baghel at his official residence, he said.
"Chhattisgarh will become a manufacturing hub for electric vehicles and their accessories in the coming years. The policy will create employment opportunities for the youth," a release quoted the CM as saying.
::INTERNATIONAL::
What are the challenges for the next UK PM?
The end of Boris Johnson's run as prime minister may ease the sense of political chaos, but it won't fix the issues plaguing the UK.
"There is a cacophony of problems on the next Prime Minister's plate, not least the cost-of-living crisis causing voters so much financial pain," said Susannah Streeter, senior investment and markets analyst at Hargreaves Lansdown.
Whoever replaces him, by winning a vote of Tory MPs and a subsequent ballot of party members, will inherit an economy buffeted by a cost-of-living crisis as inflation accelerates the most in four decades.
Unrest among workers is already fomenting as rail staff, postal workers, teachers and trial lawyers all declare walkouts or debate doing so, prompting parallels with the 1970s and the era's mix of runaway prices and work stoppages.
The new leader will also have to repair a fractured party that's looking tired after 12 years in power and suffered as Johnson's administration has lurched from one crisis to another. And they'll have to mend relations with the EU that have been strained to near breaking point by Johnson's threats to renege on the Brexit agreement he negotiated.
::ECONOMY::
Canara Bank and HDFC Bank hike MCLR, month after RBI raised repo rate
Canara Bank and HDFC Bank have increased their marginal cost of funds-based lending rates (MCLR) by 10 basis points and 20 basis points, respectively, with effect from July 7.
State-owned Canara Bank's overnight and one-month MCLR are at 6.75 per cent now. The three-month MCLR is now at 7.05 per cent; six month MCLR is at 7.45 per cent; and one-year MCLR is at 7.50 per cent, information put out on the bank's website revealed.
As per HDFC Bank's website, the private lender's overnight MCLR now stands at 7.70 per cent; the one-month MCLR is at 7.75 per cent; 3-month MCLR is at 7.80 per cent; six-month MCLR is at 7.90 per cent; one-year MCLR is at 8.05 per cent; 2-year at 8.15 per cent; and 3-year MCLR at 8.25 per cent.
According to the latest Reserve Bank of India (RBI) data, as of March 2022, about 43.6 per cent of loans of scheduled commercial banks is linked to the MCLR.
The RBI's six-member monetary policy committee (MPC) on June 8 raised the benchmark interest, the repo rate, by 50 basis points to 4.90 per cent to tame the rising headline inflation. Previously, the MPC had raised rates by 40 basis points.
HDFC Bank last raised its MCLR by 35 basis points in June, a day prior to the MPC meeting. It had also hiked its MCLR by 25 bps in May. A few other lenders such as ICICI Bank, Punjab National Bank, and Indian Bank had raised their MCLR last week, post the MPC's decision to hike repo rate.
::Science and tech::
Carnivorous plant catches prey underground, found in Indonesia: Study
A first-of-its-kind carnivorous plant that traps prey underground has been found on Indonesia's Borneo Island in the country's North Kalimantan province. Similar to other pitcher plants – the name given to carnivorous plants with modified prey-catching leaves – the plant has been christened Nepenthes pudica and is the first such that catches prey underground.
A study published in the journal PhytoKeys on June 23 says Nepenthes pudica is known only from a few neighbouring localities in North Kalimantan's MentarangHulu district, where it grows on ridgetops at an elevation of 1,100–1,300 metres above sea level.
"We found a pitcher plant which differs markedly from all the other known species," Martin Dančák of the Czech Republic's Palacký University, who is the lead author of the study, said.
"… this species places its up-to-11-cm-long pitchers underground, where they are formed in cavities or directly in the soil and trap animals living underground, usually ants, mites and beetles," Dančák explained.
Also, the leaves that support the pitcher – which traps the prey – are a fraction of their normal size. The pitchers themselves, though, are of the normal size and have a reddish-purplish colour.
"Interestingly, we found numerous organisms living inside the pitchers, including mosquito larvae, nematodes and a species of worm which was also described as a new species," VáclavČermák from the Czech Republic's Mendel University, who was part of the team, said.
The scientists said a few reason for the plant to have evolved to catch prey underground is more stable conditions and potential prey during dry periods.
 ::Sports::
Nadal pulls out of Wimbledon semi-final against Kyrgios due to injury
Two-time Wimbledon champion Rafael Nadal has withdrawn from the 2022 tournament with an abdomen injury ahead of his semi-final match against Nick Kyrgios on Centre Court on Friday. Nadal had battled abdominal pain to oust Taylor Fritz in the five-set thriller on Thursday to reach his eighth Wimbledon semi-final. With his withdrawal, Nadal's hope of a Calendar Grand Slam ends.
Nadal had a light practice session of around 45 minutes in a bid to shake off his injury concerns and be ready for the big semi-final match against Kyrgios, who reached his maiden Grand Slam semi-final.
It was earlier reported by Spanish newspaper Marca prior to his practice session that Nadal had suffered a 7-millimetre tear in one of his abdominal muscles.
Download Monthly General Awareness PDF
Download SSC EXAMS EBOOK PDF
PRINTED Study Notes for SSC CGL Exam
Click Here for Daily Current Affairs Archive