Current Affairs for SSC CGL Exams – 09 July 2022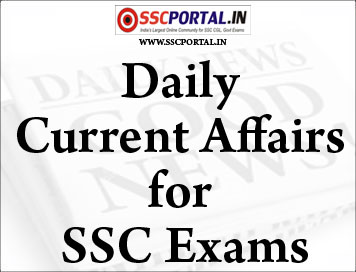 Current Affairs for SSC CGL Exams – 09 July 2022
::NATIONAL::
Madras high court reserves order on OPS plea against AIADMK general council meeting on July 11
The Madras high court on Friday reserved its order on former Tamil Nadu chief minister O Panneerselvam's (OPS) plea to stall the July 11 AIADMK general council meeting that aims to elect his rival camp leader Edappadi Palaniswami (EPS) as the party interim general secretary.
A single bench of justice Krishnan Ramaswamy said the high court will pass an order at 9 am on July 11 – the day of the key AIADMK meeting.
The July 11 meeting has 16 agendas to be passed by the general council, which include choosing EPS as the party interim general secretary and discussing the procedure to elect him as general secretary.
The path to abolish the dual leadership of OPS as coordinator and EPS as joint coordinator and make the latter AIADMK's unitary leader started in June.
A sidelined OPS has been opposing this on various forums trying to protect his political position and the two leaders are now fighting it out in court. EPS had challenged a previous Madras HC order that favoured OPS a few hours ahead of the previous general council meeting held on June 23 in the Supreme Court which on Wednesday stayed the high court order.
OPS's counsel argued that the EPS camp's argument that the posts of coordinator and joint coordinator – which came into place in 2017 and was solidified by amending party by laws for primary members to elect them in December 2021 – has ceased to exist is fallacious.
EPS supporters and senior AIADMK leaders say since the June 23 general council meeting rejected all 26 resolutions which included ratifying the December 2021 election, the posts are now defunct.
::INTERNATIONAL::
Ukrainian official warns of 'catastrophe' in captured city
A Ukrainian regional official warned Friday of deteriorating living conditions in a city captured by Russian forces two weeks ago, saying Sievierodonetsk is without water, power or a working sewage system while the bodies of the dead decompose in hot apartment buildings.
Gov. SerhiyHaidai said the Russians were unleashing indiscriminate artillery barrages as they try to secure their gains in eastern Ukraine's Luhansk province. Moscow this week claimed full control of Luhansk, but the governor and other Ukrainian officials said their troops retained a small part of the province.
"Luhansk hasn't been fully captured even though the Russians have engaged all their arsenal to achieve that goal," Haidai told The Associated Press. "Fierce battles are going on in several villages on the region's border. The Russians are relying on tanks and artillery to advance, leaving scorched earth."
Russia's forces "strike every building that they think could be a fortified position," he said. "They aren't stopped by the fact that civilians are left there, and they die in their homes and courtyards. They keep firing."
Occupied Sievierodonetsk, meanwhile, "is on the verge of a humanitarian catastrophe," the governor wrote on social media. "The Russians have completely destroyed all the critical infrastructure, and they are unable to repair anything."
Haidai reported last week that about 8,000 residents remained in the city, which had a prewar population of 100,000. Some Ukrainian officials and soldiers said Russian forces leveled Sievierodonetsk, Luhansk province's administrative center, before Ukraine's troops were ordered out of the city late last month to avoid their encirclement and capture.
Luhansk is one of two provinces that make up the Donbas, Ukraine's industrial region of mines and factories. Pro-Moscow separatists have fought Ukraine's army in the Donbas for eight years and declared independent republics, which Russian President Vladimir Putin recognized before he sent troops into Ukraine.
::ECONOMY::
MoD says 3 pvt banks can provide financial services in overseas procurement
The defence ministry allowed three private sector banks to provide financial services to it for overseas procurement of military hardware.
The banks are HDFC Bank Ltd, ICICI Bank and Axis Bank.
Till now, only authorised public sector banks were utilised to provide services like issuance of letter of credit and direct bank transfers to the ministry for overseas procurement.
In line with further opening of allocation of government business to private sector banks by the department of financial services, the ministry has assigned three private sector banks to provide the LoC and direct bank transfer business for overseas procurement, an official release said.
"The selected banks may be allocated with LC business of Rs 2,000 crore, each on the capital and revenue side, for a period of one year on concurrent basis (Rs 666 crore for each bank under both capital as well as Revenue)," the ministry said.
::Science and tech::
Researchers rediscover oak tree thought to be extinct
According to a new study, botanical researchers revealed that oak tree once were thought to be extinct, and now are in immediate need of conservation within Big Bend National Park in Texas.
Researchers headed by The Morton Arboretum and United States Botanic Garden (USBG) were thrilled to find a lone Quercustardifolia (Q. tardifolia) tree standing about 30 feet tall, though it is in poor condition. First described in the 1930s, the last living specimen was believed to have perished in 2011.
"This work is crucial to preserve the biodiversity that Earth is so quickly losing," said Murphy Westwood, Ph.D., vice president of science and conservation at The Morton Arboretum. "If we ignore the decline of Q. tardifolia and other rare, endangered trees, we could see countless domino effects with the loss of other living entities in the ecosystems supported by those trees," she said. According to Westwood, Q. tardifolia is considered one of, if not the rarest oak in the world.
The team that made the discovery on May 25, 2022, described a dire scene. The trunk is scarred by fire and shows signs of severe fungal infection. A drought or fire has the potential to end its life, say the scientists who also report that climate change makes this outcome more likely every year. 
The group is now working with the National Park Service to reduce the immediate wildfire threat to the tree, and conservationists in this collaborative are moving quickly to return to search for acorns and to attempt propagation, the process of breeding specimens from a parent plant.
 ::Sports::
Aldrin fails to impress in second trial, out of world championships
Long jumper JeswinAldrin will not go to the world athletics championships that start in a week's time in Eugene, USA. Asked to leap "close to 8.10 metres" to convince the Athletics Federation of India (AFI) of his form and fitness, the 20-year-old could only record the best jump of 7.93m.
Competing with two juniors, Aldrin began his series on the hot Friday evening in Patiala with a foul before jumping 7.93m. Two more fouls followed before Aldrin leapt 7.67m. He ended the trial with another foul. The conditions remained tough throughout, with temperatures touching 35 degrees and humidity in excess of 70 per cent.
"There was barely a minute's break between jumps. Imagine running 41 strides at full speed and jumping with just a minute's break in between. It was quite tough," said a source close to Aldrin.
The result means Aldrin, despite meeting AFI's qualification criterion (8.22m) in April – when he jumped 8.26m and wind-aided 8.37m – has failed to make it to the world championships. India will be represented by national record holder MuraliSreeshankar and MuhammedAnees Yahiya.
AFI, however, got Aldrin and quarter-milers Rajiv Arokia and Aishwarya Mishra for a trial on July 4 in Thiruvananthapuram, where Aldrin produced a best jump of 7.99m.
"The selection committee was not happy with 7.99m. With modern spikes and technical advancements, we expect our jumpers to do better. His last 8m-plus jump was in April. This 7.99m jump was not up to the mark for world championships," former long jumper and member of national selection committee Anju Bobby George told this paper.
Download Monthly General Awareness PDF
Download SSC EXAMS EBOOK PDF
PRINTED Study Notes for SSC CGL Exam
Click Here for Daily Current Affairs Archive