Current Affairs for SSC CGL Exams – 11 July 2022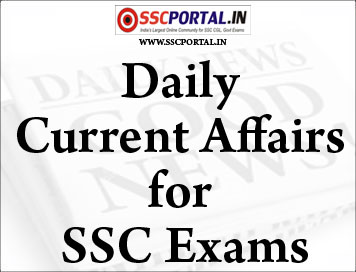 Current Affairs for SSC CGL Exams – 11 July 2022
::NATIONAL::
Entrepreneurship courses for Agnipath recruits soon: Skill development ministry
The ministry of skill development and entrepreneurship is planning to start nearly 22 programmes to accommodate new recruits who will join the military services under the Agnipath scheme, which was recently launched by the government amid widespread protests, officials said.
The aim of the programmes will be to help develop bankable business plans for the recruits who will exit the army after four years of service, providing them with alternative job opportunities.
The government plans to induct nearly 46,000 men and women into the forces between the ages of 17.5 years to 23 years in the coming months.
The programmes, which originally started in 2016-17, will be taught across 21 centres in the country. "The programmes were paused during the pandemic," an official said on the condition of anonymity. "So far, we were able to conduct only three or four courses in a year, but this time there will be nearly 22 courses."
The modules are designed to be dynamic and provide skilling to ensure better opportunities," the official said.
This year, the ministry is looking to train nearly 1,000 ex-servicemen, most of whom are in their early 40s. The modules are nearly eight to twelve weeks long and are being taught at centres in Dehradun and Noida. These include training as retail team leaders, entrepreneurship development and even web development.
The National Institute for Entrepreneurship and Small Business Development (NIESBUD), an organisation in the skill development ministry, will be engaged in training, consultancy, and research in order to promote "entrepreneurship and Skill Development will work collaboratively with the Armed Forces to inculcate entrepreneurial competencies among the Agniveers".
::INTERNATIONAL::
Japan ruling bloc wins big in vote held days after Shinzo Abe's murder
The ruling Liberal Democratic Party and its junior coalition partner Komeito won at least 76 seats, preliminary results from national public broadcaster NHK showed early. This is well above the 56 seats they needed to retain their majority and the 69 seats they needed to increase their size in the body.
Sympathy votes following Abe's death seem to have swung the balance in some constituencies, according to Shigenobu Tamura, a former LDP staffer turned political commentator. But that didn't appear to lead to a major surge in seats for the ruling bloc, which had been projected by the Yomiuri newspaper before the killing to take between 65-80 seats.
Current Prime Minister Fumio Kishida had been seeking a solid victory for the long-ruling LDP that could bolster his grip over the party and open the way for a "golden three years" in which he need not face another national election. Kishida has placed a top priority on his "New Capitalism" plan aimed at sharing the fruits of growth more widely.
Investors are likely to welcome the results when markets open Monday. The Topix index gained after each of the past three upper house elections where the ruling coalition retained a majority, most recently with an advance of about 11% six months after the 2019 vote. 
Big defeats by ruling parties in 1998 and 2007, on the other hand, led to substantial share selloffs, while the gauge rose after the incumbent's weak performance in 2010.
Half the seats in the less powerful upper house are contested every three years, with an extra vacant seat also up for grabs this time, for a total of 125 out of the 248-strong chamber.
"From the point of view of the Japanese economy, it is a very good thing for the LDP to win and gain a stable three years," said Takashi Hiroki, executive officer at Monex Inc. "The markets were worried about the Kishida administration at first, but he is now taking a business perspective and monetary policy is also on the right track."
Kishida needs to pick a successor to Bank of Japan Governor Haruhiko Kuroda, who has steered the country's ultra-easy monetary policy. Kishida also faces a tricky debate over his pledge to radically upgrade Japan's military and push through a commensurate increase in spending.
::ECONOMY::
High-tech sensors help Bengaluru hospital turn general wards into ICUs
In Bengaluru's Narayana Health's cardiac hospital, the nurses are now spending less time visiting patients' beds to record the health information of each patient. 
A report by Livemint says that around 700 beds in the hospital have now been fitted with connected sensors, which monitor vital signs such as blood pressure, respiratory rate, temperature, and pulse. The information can then be relayed to dedicated devices.
These connected sensors are similar to the patches that are used for ECGs and are placed on the patient's body to capture their vitals. Inside these patches are the connected sensors that are connected to a real-time health monitoring system (RTHMS). 
The system is designed by the Indian arm of US technology giant Honeywell, which use IoT technology to relay the data through cloud.
"The Honeywell solution also provides information such as a patient's posture, blood oxygen levels and ECG. It is reliable and provides data on any vitals you want", says DrShetty. According to Dr. Devi Prasad Shetty, currently 5-10 per cent of hospital beds are dedicated to critical care, but in the near future, nearly half of these will be for critical care.
::Science and tech::
Webb Space Telescope – Hubble's $10 bn successor – has its targets
NASA said Friday the first cosmic images from the James Webb Space Telescope will include unprecedented views of distant galaxies, bright nebulae, and a faraway giant gas planet.
The US, European and Canadian space agencies are gearing up for a big reveal on July 12 of early observations by the $10 billion observatory, the successor to Hubble that is set to reveal new insights into the origins of the universe.
"I'm looking very much forward to not having to keep these secrets anymore, that will be a great relief," Klaus Pontoppidan, an astronomer at the Space Telescope Science Institute (STSI) that oversees Webb, told AFP last week.
An international committee decided the first wave of full-color scientific images would include the Carina Nebula, an enormous cloud of dust and gas 7,600 light years away, as well as the Southern Ring Nebula, which surrounds a dying star 2,000 light years away.
Webb has also carried out a spectroscopy — an analysis of light that reveals detailed information — on a faraway gas giant called WASP-96 b, which was discovered in 2014.
Nearly 1,150 light-years from Earth, WASP-96 b is about half the mass of Jupiter and zips around its star in just 3.4 days.
Next comes Stephan's Quintet, a compact galaxy 290 million light years away. Four of the five galaxies within the quintet are "locked in a cosmic dance of repeated close encounters," NASA said.
 ::Sports::
Novak Djokovic's resilience never in doubt, says coach Ivanisevic
GoranIvanisevic said he never doubted Novak Djokovic's resilience after the Serb beat Nick Kyrgios in the Wimbledon final to win his 21st Grand Slam title and turn around a year that began with him being deported from Australia.
Djokovic won the Australian Open, French Open and Wimbledon titles in 2021 but was unable to defend his Melbourne Park crown due to his refusal to get vaccinated against Covid-19.
The Serb was deported on the eve of the hardcourt major and his coach Ivanisevic said it had been a real setback for the entire team.
"(It was) a tough year, especially for him, but also for us that were close to him," Ivanisevic told reporters on Sunday. "People, after that they never come back to tennis or to anything.
"We all expected for him (to say) after a couple of weeks, 'okay, forget about Australia, let's go back and practice.' It did not happen like that. It took a long time …
Download Monthly General Awareness PDF
Download SSC EXAMS EBOOK PDF
PRINTED Study Notes for SSC CGL Exam
Click Here for Daily Current Affairs Archive