Current Affairs for SSC CGL Exams – 13 July 2022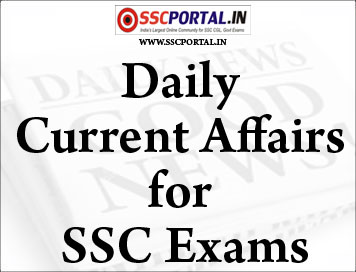 Current Affairs for SSC CGL Exams – 13 July 2022
::NATIONAL::
File exhaustive report on PM CARES: Delhi HC to govt
The Delhi high court was irked by a "one-page" reply filed by the Union government to defend that the PM CARES Fund is a "Trust" and not "State" under the Indian Constitution.
A bench of chief justice Satish Chandra Sharma and justiceSubramonium Prasad took exception to the reply filed by the Centre last year in the plea, saying it is an "important issue" and is "not so simple".
The high court asked the Union government to file a detailed and exhaustive reply on the plea and adjourned the matter for September 16.
"You have filed a reply in the case. One page to such an important issue? It is only a one page reply… Nothing beyond that? Such an important issue and one page reply is there. Whatever the senior counsel (for petitioner) is arguing, there is not even a whisper about it in the reply," the bench told Solicitor General Tushar Mehta.
::INTERNATIONAL::
India's population is higher than China's, claims researcher
A leading researcher on Chinese demographer said India has already surpassed China and is home to the most number of people in the world, responding to a UN population report that said the South Asian country is likely to surpass China to become the world's most-populous nation in 2023.
In a series of posts on Twitter, Yi Fuxian, researcher and author at the University of Wisconsin, claimed India's population surpassed China's population in 2014. Two other Chinese demographers who did not wish to be named said Yi's argument is likely true.
"Births (in China) began to decline in 1991, with no peak in 2004 or 2011; Population is now less than 1.28 billion, not the official 1.41 billion; Population began to shrink in 2018, not 2031 as officially predicted," Yi tweeted after the release of the UN report.
"India and China were alternately the most populous countries in the world until 1700. But from 1820-2013 China's population was consistently larger than India's. In 1882, China's population was 381 million, India's was 209 million, and the US's was 9.98 million. In 2014, India's population again surpassed China's," Yi told Hindustan Times.
In 2017, China's real population may have been about 1.29 billion in 2016, 90 million fewer people than the official figure released by the National Bureau of Statistics, Yi had said at a symposium in Beijing's Peking University that year.
According to the UN report, India's population will reach 1.412 billion in 2022, compared with 1.426 billion in China.
"China is no longer the most populous country in the world, and India's population has surpassed that of China. The world geopolitical and geo economic pattern is undergoing historic changes. However, due to economic inertia, it will take decades (>30 years) for India's economy to surpass China and the United States," he said.
Yi is the author of the 2007 book Big Country with an Empty Nest", a critical look at China's family planning policy. It was published in 2007 and banned on the mainland.
::ECONOMY::
India's manufacturing exports may touch $1 trillion by FY28: Bain
India is expected to scale up its manufacturing exports to $1 trillion by fiscal year 2027-28.
This comes amid favourable trends in manufacturing and growth in priority sectors, said Bain & Company, in a report titled, 'The Trillion-Dollar Manufacturing Exports Opportunity for India.'
The six sectors driving export growth will be chemicals, auto, electronics, pharmaceuticals, textiles and industrial machinery.
The electronics sector is expected to see the highest compound annual growth rate (CAGR) of 35-40 per cent till FY28. This would be followed by chemicals at 19-23 per cent and industrial machinery at 18-20 per cent. Automotive is another key sector and is expected to grow at 15–18 per cent CAGR.
The report comes in the backdrop of India's manufacturing exports seeing tremendous growth over the last two years.
"Despite possible recessionary and inflationary pressure, fundamentals for the manufacturing sector remain strong. The mega trends will continue to play out during the course of this decade. This will accelerate India's manufacturing-led exports," Jain said.
The report further said that India is on the cusp of structural shifts in the manufacturing sector. This has been enabled by a post-pandemic global focus on supply chain diversification.
Also, policy initiatives like the revamped foreign trade strategy and rollout of production-linked incentive (PLI) schemes are giving a further boost to manufacturing.
::Science and tech::
Nasa new images: Woman behind James Webb Space Telescope had an 'ugly cry'
Nasa has released 5 images so far: SMACS 0723, a distant galaxy cluster; WASP-96b, a giant gas planet and its cloud; Southern Ring Nebula, dance of a dying star; Stephan's Quintet, five galaxies in a cosmic dance; Carina Nebula; nursery of baby stars.
As the new Nasa images captured by the James Webb Space Telescope have stunned the world, astrophysicist Jane Rigby, Webb's operations project scientist, shared her first reaction after seeing the first focussed images from the telescope. "Earlier than this, the first focussed images that we took where they were razor-sharp…that for me had the very emotional reaction like oh my goodness, it works. And it works better than we thought…personally, I went and had an ugly cry. What the engineers have done to build this thing is amazing," the scientist said.
The second image is of WASP-96b, a giant gas planet, located nearly 1,150 light years from Earth. This planet is about the size of Saturn and not a candidate for life elsewhere but a key target for astronomers. Instead of an image, the telescope used its infrared detectors to look at the chemical composition of the planet's atmosphere. It showed water vapour in the super-hot planet's atmosphere and even found the chemical spectrum of neon, showing clouds where astronomers thought there were none.
The third image is of the Southern Ring Nebula, also called eight-burst. The image shows the dance of a dying star, about 2,500 light-years away.
The fourth image is of Stephan's Quintet, five galaxies in a cosmic dance that was first seen 225 years ago in the constellation Pegasus. It includes a black hole that scientists said showed material "swallowed by this sort of cosmic monster."
 ::Sports::
Virat Kohli slides into dangerous territory
The alarming slide in Kohli's performances has reached a point where his India spot looks in danger.
By its very nature, competitive sport lends itself to comparisons. When athletes are at their peak, we see how they stack up against their contemporaries and draw parallels with past greats. When they are down, struggling towards the latter stages of their careers, we tend to look at others who went through a similar slump and wonder whether this could be the end of the road for them.
In Kohli's case — as is customary for the very best players —he's also measured by the exalted standards he has set. That high benchmark, though, is becoming a distant memory with each passing innings.
After a disastrous 2014 tour of England, when he returned 134 runs in five Tests at an average of 13.4, his period of domination began on the tour of Australia that December when he hit 692 runs in four Tests with four hundreds.
For the next five years, Kohli exuded an air of invincibility; scoring centuries seemed like a routine day at work. It seems anything but straightforward now as a three-figure score has eluded him since his 139 in India's first pink-ball Test against Bangladesh in November 2019. His Test average has nosedived from 63.64 during that five-year phase to 28.12 since December 2019.
Download Monthly General Awareness PDF
Download SSC EXAMS EBOOK PDF
PRINTED Study Notes for SSC CGL Exam
Click Here for Daily Current Affairs Archive