Current Affairs for SSC CGL Exams – 22 June 2022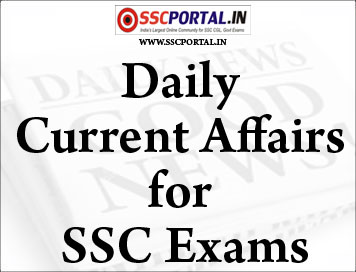 Current Affairs for SSC CGL Exams – 22 June 2022
::NATIONAL::
India has second highest pre-trial detainees among Commonwealth nations: Study
As of December 2020, India's prison population consists of 76.1 percent pre-trial detainees who are locked up as suspects and/or witnesses to crimes, a new study conducted by the Commonwealth Human Rights Initiative (CHRI) has revealed.
The report — 'Guilty Till Proven Innocent?' — stated that amongst Commonwealth nations, India is in the second position with 488,511 individuals in 1,306 prisons as of 2020. Bangladesh leads the list with 80 percent pre-trial detainees.
The CHRI report was released at the Commonwealth's People's Forum of Commonwealth Heads of Government Meeting in Kigali, Rwanda on Tuesday. The report aims to call upon the Commonwealth heads of governments to prioritise and initiate action to improve access to justice, reform prison administration and reduce pre-trial detention, because 'innocent until proven guilty'.
"Of the 1.5 million prisoners detained across the Commonwealth, more than 0.5 million are pre-trial detainees. In at least 15 countries, pre-trial detainees form more than half of the total population," Alison Duxbury, the chair of the international board of CHRI, said.
Giving recommendations, CHRI said that laws relating to arrests need to be reviewed, legal aid systems need to be strengthened, time limits on investigations should be put in place, trials and detention and the need to opt for non-custodial alternatives among other things require the government's attention.
::INTERNATIONAL::
US may propose rule to drastically reduce nicotine in cigarettes: Reports
President Joe Biden's administration is set to announce a new policy requiring cigarette producers to reduce nicotine to non-addictive levels, US media reported Tuesday — a move that would deal a powerful blow to the tobacco industry.
If successful, the policy could save millions of lives by the end of the century, and shape a future where cigarettes are no longer responsible for addiction and debilitating disease.
The initiative could be announced as soon, the Washington Post said, quoting a person familiar with the matter.
It would require the Food and Drug Administration to develop and then publish a rule, which could then be contested by industry, added the Wall Street Journal, which first reported on the issue.
The entire effort is expected to take several years and could be delayed or derailed by litigation, or reversed by a future administration unsympathetic to its aims.
Nicotine is the "feel good" chemical that hooks millions to tobacco products. Thousands of other chemicals contained in tobacco and its smoke are responsible for diseases such as cancer, heart disease, stroke, lung diseases, diabetes and more.
Reducing the nicotine content of cigarettes has been a topic under discussion for years among US authorities.
Former FDA commissioner Scott Gottlieb in 2017 announced he wanted to move forward on the issue, and funded a study published in the New England Journal of Medicine in 2018 that found "reduced-nicotine cigarettes versus standard-nicotine cigarettes reduced nicotine exposure and dependence and the number of cigarettes smoked."
::ECONOMY::
Govt dept to collaborate with SBI to create integrated pension portal
The Centre's Department of Pension & Pensioners' Welfare (DoPPW) will collaborate with the State Bank of India (SBI) to create an integrated pension portal to enhance ease of living of pensioners, according to an official statement.
Sessions on pension policy reforms and digitisation regarding the disbursement of pensions to central government pensioners were organised with the objective of updating SBI field functionaries during the two-day bankers' awareness programme in Udaipur, Rajasthan.
Special sessions were organised on income tax matters related to pensioners as well as digital means of submitting annual life certificates, said the statement by the Ministry of Personnel, Public Grievances and Pensions.
It was decided that immediate efforts are needed for the creation of an integrated pension portal by linking the existing portals of the DoPPW and the SBI to provide seamless services to pensioners, it said.
Digital life certificate and face authentication technology would be a game changer for pensioners and banks in the submission of life certificates, it said.
It is expected that through these programmes, the objective of enhancing ease of living' of pensioners will be achieved to a great extent, the statement said.
Four such awareness programmes will be conducted in collaboration with the State Bank of India to cover the whole country, it said.
::Science and tech::
NASA's DAVINCI mission 2029 will be launched soon
NASA's DAVINCI mission to Venus will carry a dime-sized, student-built sensor to study the planet's near-surface environment.
The DAVINCI (Deep Atmosphere Venus Investigation of Noble gasses, Chemistry, and Imaging) mission, which is slated to launch in 2029, aims to investigate Venus' atmosphere-climate system and shed new light on the scorching planet's potentially habitable past. It is the first Venus mission that will use both spacecraft flybys and a descent probe. 
The miniature sensor, called the Venus Oxygen Fugacity (VfOx) instrument, will be mounted on the outside of the spacecraft's Descent Sphere, the probe that will enter Venus' atmosphere. The sensor will be designed, built, tested and operated by students as a part of the mission's Student Collaboration Experiment, according to a statement from NASA.
The spacecraft will perform two flybys of Venus before its probe plunges through the planet's dense atmosphere about two years after launch. The probe is expected to take measurements of clouds and ultraviolet absorption on the Venusian dayside, along with measurements of heat emanating from the planet's surface on the nightside. The probe will also ingest and analyze gasses in the planet's atmosphere while capturing images of its descent to an area known as Alpha Regio, which is composed largely of rugged, mountainous terrain called tessera. 
As the probe nears Venus' surface, it will measure the partial pressure of oxygen, known as oxygen fugacity, in the planet's deep atmosphere. Scientists can then compare this information with measurements of oxygen captured in rocks on Venus' surface to better understand the planet's mountainous terrain, which has never been visited by a spacecraft, according to the statement. 
"By analyzing these ground-breaking VfOx measurements, scientists will, for the first time, seek to identify what minerals are most stable at the surface of Venus in the highlands and link the formation of rocks to their recent modification histories," NASA officials said in the statement. "VfOx will measure the amount of oxygen present near the surface of Venus as a 'fingerprint' of the rock-atmosphere reactions that are going."
::Sports::
Sunil Chhetri becomes joint 5th highest goalscorer
Indian men's football team captain Sunil Chhetri became the joint fifth highest goalscorer in international football history. 
Chhetri achieved this feat during their AFC Asian Cup Qualifier clash against Hong Kong on Tuesday, where he scored his 84th goal. He has now equalled legendary Real Madrid and Hungarian player FerencPuskas goals scoring exploits on the international level.
Earlier in October 2021, Chhetri also surpassed legendary football player Pele's record of 77 goals. He is now third on the list of active international goalscorers, just behind Portugal's Cristiano Ronaldo and Argentina's Lionel Messi.
Download Monthly General Awareness PDF
Download SSC EXAMS EBOOK PDF
PRINTED Study Notes for SSC CGL Exam
Click Here for Daily Current Affairs Archive