Current Affairs for SSC CGL Exams -24 August 2022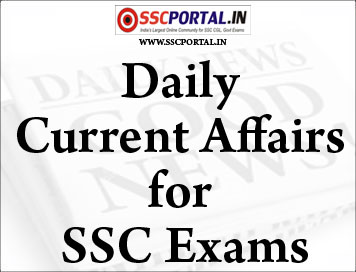 Current Affairs for SSC CGL Exams – 24 August 2022
::NATIONAL::
Tomato Flu spread in India: Centre issues advisory to states
The Centre has issued an advisory to states on the Hand Foot and Mouth Disease (HFMD), which is more commonly known as the Tomato Flu. Till now, four states- Kerala, Tamil Nadu, Haryana and Odisha have reported cases of the Tomato Flu.
A report by Livemint said that more than 100 cases of the flu have been reported in the country in children below the age of nine. The Tomato Flu was first reported in the Kollam district of Kerala on May 6 and then spread to other areas of the state- Anchal, Aryankavu, and Neduvathur.
According to the Centre's advisory on Tuesday, "The disease, which seems to be a variant of Hand, Foot and Mouth Disease (HFMD), occurs mainly in children under 10 years of age, but it can occur in adults too."
The advisory added that children must be educated about the signs and symptoms and side effects of Tomato flu.
It pointed out that although Tomato Flu shows symptoms similar to other viral infections such as fever, fatigue, body aches and rashes on the skin, it is not at all related to SARS-CoV-2, monkeypox, dengue and/or chikungunya.
"It seems, the disease is a clinical variant of the so-called hand-foot-mouth disease (HFMD) that is common in school-going children. Infants and young children are also prone to this infection through the use of nappies, touching unclean surfaces as well as putting things directly into the mouth," the Centre's advisory said.
It also highlighted that isolation should be followed for five to seven days from the onset of any symptoms to prevent the spread of infection to other children or adults.
Listing out preventive measures, Tuesday's advisory said people should avoid immediate contact with the infected person.
"You should encourage your children to stop thumb or finger sucking habits. Encourage the child to use a handkerchief in case of a runny nose or coughing."
The advisory said that blisters should not be rubbed or scratched.
"Always use warm water to clean skin or for bathing the child. Take a nutrition-rich, balanced diet to boost immunity. It is essential to get enough rest and sleep to promote healing," it added.
::INTERNATIONAL::
Chilean government sets new push on bill to reduce working hours
The government of Chilean President Gabriel Boric said on Tuesday it has revived efforts to pass a bill that would reduce working hours in the country and fulfill a campaign promise.
The bill, which aims to reduce the working week from 45 to 40 hours within five years, has stalled in Congress since it was introduced in 2017 by then-lawmaker and current government spokesperson Camila Vallejo.
Boric has given "urgency" to the bill, a provision in Chile's constitution that forces lawmakers to consider a bill when mandated by the president.
Lawmakers will debate a series of changes to the bill made by Boric's government, including a revision extending the reduction in working hours to workers in special categories, such as public transport drivers and domestic workers.
"These improvements are essential to bringing us closer to a new Chile, one that is fairer," Boric said during a ceremony Tuesday at the presidential palace.
The center-left government has promoted dialogue with unions and worker federations along with representatives from small, medium and large companies at a time when the economy of the world's largest copper producer is slowing down and faces strong inflationary pressures after a rapid post-pandemic recovery.
Boric said his government expected the bill to be voted on and approved as soon as possible by both legislative houses.
::ECONOMY::
NARCL revises CEO NatarajanSundar's salary to market rates: Report
In a bid to attract experienced talent, the National Asset Reconstruction Co Ltd (NARCL) has increased the total remuneration of its chief executive, NatarajanSundar to Rs 1.7 crore, which is significantly higher than the salaries of CEOs of top state-owned banks, Livemint said in a report on Tuesday.
The remuneration, which includes a variable of Rs 44 lakh, is being seen as an attempt to be more market-driven even as the bad bank will be managing stressed loans of public sector banks, the report stated.
The salary package of Sundar, who was a State Bank of India (SBI) executive formerly, was approved by the NARCL's Board of Directors in a meeting on May 30, Livemint reported quoting documents.
Sundar's total compensation, including the variable pay, will make him eligible to participate in NARCL's annual discretionary bonus plan. The CEO's salary is based on the achievement of annual targets set by the Board and approved by the regulator, the documents reviewed by Livemint stated.
However, the NARCL's chief executive's revised salary is lower than his counterpart's at the largest private asset reconstruction company Edelweiss ARC. RK Bansal, Edelweiss ARC's CEO, gets an annual remuneration of Rs 3.25 crore.
The revision of Sundar's compensation comes at a time when the salary gap between public and public sector lenders has grown. As compared to the top executives of private sector lenders, heads of state-owned banks earn less than 10 per cent of their salaries. For example, SBI chairman Dinesh Khara in FY22 earned Rs 34.4 lakh, while his HDFC counterpart, chief executive SashidharJagdishan was paid Rs 6.52 crore.
::Science and tech::
Revealed: How Pluto turned into a dwarf planet?
'Pluto Demoted' Day. The day marks Pluto being excluded from the elite list of planets, reducing their total number to eight. On 24 August 2006, Pluto's status was downgraded from a full sized planet, which it had donned for more than 70 years, to a dwarf planet by the worldwide society of professional astronomers – International Astronomical Union (IAU).
On 18 February 1930, astronomer Clyde Tombaugh the observing assistant working at the Lowell Observatory in the United States, saw this hidden planet. Renowned astronomer Percival Lowell believed that this planet, then called Planet X, perturbed the orbits of Uranus and Neptune. However, this hypothesis of Lowell was later proved incorrect.
Talking about the discovery, the IAU website reads, "As he (Tombaugh) flicked from one plate to the other, trying to see if something moved slightly between the two (the tell-tale sign of the planet he was hunting), he spotted something. In one part of the frame, a small object flitted a few millimetres as he switched between the two plates. Tombaugh had found his new planet! "
The American Astronomical Society, the Royal Astronomical Society in the UK and the IAU acknowledged the Tombaugh discovery and officially included the object in the list of planets, adopting the name Pluto.
But after subsequent discoveries and advancement in technology, astronomers found over 1,000 objects orbiting beyond Neptune. The zone is now called the trans-Neptunian region, and these bodies are labelled as Trans-Neptunian Objects. These discoveries perplexed astronomers to give a second thought to Pluto being a planet, as it might simply be the first of a population of small, icy bodies beyond the orbit of Neptune.
"With so many Trans-Neptunian Objects being found, it seemed inevitable that one or more might be found to rival Pluto in size," IAU mentions.
The definition of the planet needed serious reconsideration.
::Sports::
LakshyaSen enters pre-quarters of BWF World Championships; Kidambi knocked out
Young Indian badminton ace LakshyaSen sailed into the men's singles pre-quarterfinals with a straight game win over Spain's Luis Penalver in the BWF World Championships here on Wednesday. However, last edition's silver medallistKidambiSrikanth faced a stunning defeat in the round-of-32 tie, losing to China's Zhao Jun Peng in straight games.
Commonwealth Games champion Sen won his second round match 21-17 21-10, taking 72 minutes to complete the formality. After trailing 3-4, the ninth seeded Sen grabbed a six-point lead to be 13-7. The Indian continued to stay ahead before comfortably wrapping up the first game.
Sen, a world championship bronze medallist, then maintained his stranglehold over the Spanish shuttler and won the second game by a bigger margin.
In the second game, the first six points were shared between the two players, but the 21-year-old Indian pulled ahead riding on his superior play.
Enjoying a massive nine-point lead at one stage of the second game, it was only a matter of time before Sen completed the job.
Srikanth, meanwhile, had a disappointing start to the match, lacking fight in the first game to go down 9-21 before turning up in the second. However, it wasn't enough from the Indian shuttler as he conceded a 17-21 loss to bow out of the championships.
Download Monthly General Awareness PDF
Download SSC EXAMS EBOOK PDF
PRINTED Study Notes for SSC CGL Exam
Click Here for Daily Current Affairs Archive