Current Affairs for SSC CGL Exams – 24 June 2022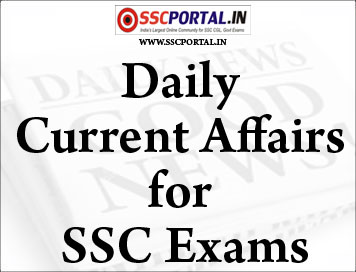 Current Affairs for SSC CGL Exams – 24 June 2022
::NATIONAL::
Andhra green energy projects
Adani Group has proposed pump storage projects in four districts of the state — two plants to be set up in ParvathiPuram, one in YSR Kadapa, and one in SatyaSai districts. In ParvathiPuram, a 1200 MW capacity plant is to be set up in Kurukutti, and a 1000 MW plant in Karrivalasa.
In a boost to the green energy sector in Andhra Pradesh, chief minister YS Jagan Mohan Reddy has cleared pump storage projects proposed by Adani Green Energy with a total capacity of 3,700 MW while chairing the State Investment Promotion Board (SIPB) review meeting at his camp office in Tadepalli.
As part of the proposed total investment of ₹60,000 crore by Adani Group in Andhra Pradesh discussed during the World Economic Forum meet at Davos recently, the chief minister on Wednesday cleared the proposal of investment of ₹15,740 crore.
The projects will generate 10,000 jobs across four districts of Andhra Pradesh, according to an official statement by the state government.
Adani Group has proposed pump storage projects in four districts of the state — two plants to be set up in ParvathiPuram, one in YSR Kadapa, and one in SatyaSai districts. In ParvathiPuram, a 1200 MW capacity plant is to be set up in Kurukutti, and a 1000 MW plant in Karrivalasa.
A 1000 MW project will be set up in Gandikota and a 500 MW plant in Chitravathi. Adani Group has proposed that the projects will generate 3,000 jobs in Kurukutti, 3000 in Karrivalasa, 1500 in Chitravathi and 2500 in Gandikota, the statement read.
The projects are stipulated to commence in December 2022 and likely to be commissioned in December 2028. While the plants will be set up over 1,490 acres of land, the state government has decided that the land will be leased from farmers at the cost of ₹30,000 per acre in these districts, which will be transferred to the farmers directly, it further said.
In other decisions taken in the SIPB meeting, the government has decided to apply for the PM MITRA scheme, which proposes to set up an integrated textile park in YSR Jagananna Mega Industrial Hub at Kopparthy in YSR District.
The government, as per the conditions laid down under the scheme, has proposed that they would be fixing the power cost at ₹4.5 per unit and ₹60 per TMC of water for the 10-year period of the project.
::INTERNATIONAL::
Pak paper association warns 'no books' in new academic year amid paper crisis
Pakistan paper association has warned that due to the paper crisis in the country, books will not be available to students in the new academic year starting August 2022.
While the cause of the paper crisis is global inflation, the current paper crisis in Pakistan is also due to the wrong policies of the governments and the monopoly of the local paper industries.
All Pakistan Paper Merchant Association, Pakistan Association of Printing Graphic Art Industry (PAPGAI), and other organizations associated with the paper industry, along with the country's leading economist Dr. Qaiser Bengali, addressed a joint press conference. During the press conference, they warned that due to the paper crisis, books will not be available to students on the new academic year starting August.
There is a severe paper crisis in the country, paper prices are skyrocketing, paper has become so expensive and its price is increasing day by day and publishers are not able to determine the price of books, reported Pakistan's local media outlet.
Ayaz Amir, while writing for Pakistan's local media outlet Dunya Daily said, "We have seen the rules of Ayub Khan (Former President of Pakistan), Yahiya Khan, Zulfikar Ali Bhutto and Muhammad Zia-ul-Haq. We have seen the governments of dictators and they all had one thing in common, take loans to solve the problems and then take more loans to pay back the previous loan." He said that this never-ending cycle is still going on and now Pakistan has reached a point when nobody is willing to give the country any further loans. "We could not solve the economic problems of our country when the population was 11 crores during the regime of Zia ulHaq. How our incompetent and failed rulers are going to improve the economy when the population has doubled to 22 crores?" he questioned in his column piece, reported local media.Meanwhile, China has made a hard bargain with Pakistan when it comes to paybacks on its loans and other investments in Pakistan. 
In the fiscal year 2021-2022, Pakistan paid around USD 150 million towards interest to China for using a USD 4.5 billion Chinese trade finance facility. In the financial year 2019-2020, Pakistan paid USD 120 million towards interest on USD 3 billion in loans.
China has been quite stringent in recovering money from Pakistan. Take Pakistan's energy sector for instance, where Chinese investors have repeatedly insisted on resolving issues relating to existing project sponsors in order to attract fresh investment.
::ECONOMY::
India's Aadhaar ID system delivers benefits but at risk of widespread fraud
Prime Minister NarendraModi's model of welfarism isn't new to India: Previous leaders have also subsidized food and fuel, and given the rural poor houses, toilets, and paid work. Modi'sedge comes from technology. A year before the 2014 election that brought him to power, the government, then led by the Congress Party, had piloted direct cash transfer to beneficiaries, inspired by the former Brazilian President Lula da Silva's popular BolsaFamilia program. Modi took that modest $1 billion start and turned it into a $300 billion vote magnet: And he did it with the help of 12-digit numbers.
Those numbers — and the ID cards that carry them — are known as "Aadhaar." It's a biometrics-based system through which almost everyone in the second-most-populous nation can prove who they are. Aadhaar, which means "foundation" in Hindi, supports 450 million-plus no-frills savings accounts and has bolstered the use of mobile internet for financial transactions even in remote villages. Five years ago, the Nobel Prize-winning economist Paul Romer endorsed Aadhaar as a template for the world.
Now there's a growing problem in the other direction: Aadhaar is being very successfully used — by fraudsters. Blame it on ubiquity combined with lax controls. While the unique ID was conceived to make welfare programs more efficient, private entities didn't lose any time in realizing its potential. Banks and telcos used Aadhaar to conduct online "know your customer" checks, which drastically cut their cost of authenticating customers. In the process, Aadhaar became all-pervasive and private data began to show up for sale on the dark web.
The government's response has been to brush it all away. Anything that casts doubt on the integrity of the system is ignored. That isn't a surprise: Having chosen a technology and made it universal, policy makers have no other route to building trust in transactions. In 2018, the Indian Supreme Court restricted the use of the database — and barred private entities from using it for now-your-customer verifications. Nevertheless, New Delhi has since then gone around opening legal back doors for the private sector to keep tapping it.
  ::Science and tech::
New class of stellar system called 'blue blobs' found: Research
A new class of stellar systems has been identified- they're not quite galaxies and only exist in isolation, according to the researchers at University of Arizona.
The new stellar systems contain only young, blue stars, which are distributed in an irregular pattern and seem to exist in surprising isolation from any potential parent galaxy.
The stellar systems — which astronomers say appear through a telescope as "blue blobs" and are about the size of tiny dwarf galaxies — are located within the relatively nearby Virgo galaxy cluster. The five systems are separated from any potential parent galaxies by over 300,000 light-years in some cases, making it challenging to identify their origins.
The astronomers found the new systems after another research group, led by the Netherlands Institute for Radio Astronomy's Elizabeth Adams, compiled a catalog of nearby gas clouds, providing a list of potential sites of new galaxies. Once that catalog was published, several research groups, including one led by Arizona associate astronomy professor David Sand, started looking for stars that could be associated with those gas clouds.
SECCO1 was one of the very unusual "blue blobs," said Michael Jones, a postdoctoral fellow in the Arizona Steward Observatory and lead author of a study that describes the new stellar systems. Jones presented the findings, which Sand co-authored, during the 240th American Astronomical Society meeting in Pasadena, California.
::Sports::
FIFA allows bigger 26-man squads for pandemic-era World Cup
FIFA has approved bigger 26-man squads for the World Cup in Qatar, deciding to extend soccer's relaxation of rules that help coaches and players during the COVID-19 pandemic.
The move was expected from the FIFA Bureau — comprising the presidents of FIFA and soccer's six confederations — after 23-player rosters were expanded for recent continental championships.
Adding three players to the typical World Cup roster follows UEFA doing the same for the European Championship last year.
There were 28-player squads also approved for the Copa América tournament in South America last year and at the African Cup of Nations in January.
The extra numbers help the coaches of the 32 teams cope with possible outbreaks of virus cases. It also means additional players are already following health protocols within the camp in Qatar rather than be brought from their home country.
Download Monthly General Awareness PDF
Download SSC EXAMS EBOOK PDF
PRINTED Study Notes for SSC CGL Exam
Click Here for Daily Current Affairs Archive