Current Affairs for SSC CGL Exams -25 August 2022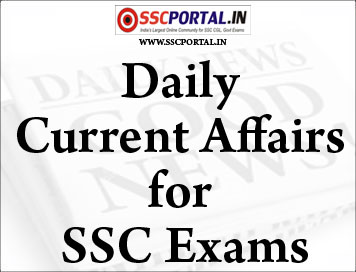 Current Affairs for SSC CGL Exams – 25 August 2022
::NATIONAL::
US journalist Angad Singh allegedly denied entry into India, deported to NY
A US citizen of Indian origin and journalist Angad Singh was allegedly denied entry to India and deported from the New Delhi airport to New York night, his family members said.
In a Facebook post, his mother GurmeetKaur, who is also a writer, said, "When I flew to America for the first time – PanAm flight from Bombay to New York – I saw a Sikh boy about my age (I was 22) handcuffed and being taken away to be deported back to India. My heart tore. I spoke to him from a distance – to comfort him. He said he didn't know the reason. He was tired of sitting down in plane rides and all he wanted to do was to lay down – his back hurt so bad. I wished him Chardikala (high spirit). "
"Today, a generation later, My son an American citizen who travelled 18 hours to Delhi to visit us in Punjab was deported. Put in the next flight back to New York. They didn't give a reason. But we know it is his award-winning journalism that scares them. It is the stories he did and the stories he is capable of", she said.
She added, "It is the love for his Motherland that they can't stand. It is the cutting edge reporting of #ViceNews that gets to them. He is 6'5" tall. His back hurts from riding long rides in such small spaces. He must be wanting to lay down. I wish you Chardi Kala my boy. It's not easy to be a Sikh, a Gursikh on top, a journalist, a warrior of truth and justice. Speaking truth has a price. We must pay it. I am comforting your back. See you in the land of free. Ps: So which story do you think pissed them off?"
 
According to sources, Gurmeet, who is also settled in US, is in India at present. Angad was planning to come to India on a personal visit to meet his family members, the sources said.
::INTERNATIONAL::
China lashes out at Indo-US military drill in Oct, says it violates bilateral agreements
China strongly opposed the war games scheduled between India and the US near the disputed Sino-India border in October, saying it's an interference in the bilateral boundary issue and a violation of agreements between New Delhi and Beijing that no military drill will be held near the Line of Actual Control (LAC), the de facto border between the two countries.
"We firmly oppose any third party to meddle in the China-India border issue in any form," Senior Colonel Tan Kefei, spokesperson for the Chinese defence ministry said on Thursday when asked to comment on the drill at the monthly press conference of the ministry.
While the drill is yet to be officially confirmed, several reports from Indian and international media have said that soldiers from the two countries will participate in a joint military exercise at Auli in Uttarakhand in October, some 100 km from the LAC.
It will be the 18th edition of the "YudhAbhyas" (practice for war) drill, a bilateral India-US exercise, and will be held at an altitude of over 10,000 feet.
The exercise will take place in the backdrop of the ongoing border friction between India and China in eastern Ladakh with both sides having deployed thousands of troops and heavy weaponry along the LAC.
Spokesperson Tan, according to the English transcript of the press conference released by the defence ministry, said China has "…always stressed that military cooperation of relevant countries, especially on exercises and training activities, should not be targeted at any third party, but rather serve to help maintain regional peace and stability".
The China-India border issue is a matter between the two countries, Tan said.
"Both sides have maintained effective communications at all levels and agreed to properly handle the situation through bilateral dialogues," he said.
Tan then cited two agreements signed by India and China in 1993 and 1996, saying the exercise violates both.
::ECONOMY::
India's robust growth gives RBI room for more rate hikes, says DBS Group
India's strong growth offers room for the Reserve Bank of India to raise rates by another 60 basis points as the central bank seeks to stamp out high inflation, DBS Group Research said in a note on Thursday.
India's gross domestic product (GDP) in the first quarter of current fiscal year likely surged 16% year-on-year based on most leading indicators, the research house estimated.
Favourable base effect after the onset of Delta coronavirus variant last year will additionally lift the year-on-year GDP numbers, RadhikaRao, senior economist at DBS Group Research, wrote in the note.
"Resumption in service sector activity added to the momentum, besides manufacturing," Rao said. The research house's fiscal year 2022-2023 GDP growth forecast of 7% year-on-year will see India emerge the fastest-growing economy in Asia this year, she pointed out.
Broad-based improvement in vaccination rates and relaxation of lockdowns benefited urban consumption, while unemployment rates returned to pre-pandemic levels, Rao said. On the investment side, "lead indicators have been encouraging."
"Resilient growth provides the room for RBI to prioritise inflation," she said. She expects RBI to raise rates by another 60 bps in the current fiscal year, adding to the 140 bps already done.
India's retail inflation rate has remained above RBI's upper tolerance limit for seven straight months.
"Our call is for a 35 basis points hike in September, followed by another 25 basis points in December to take the repo rate to 6.0%, before settling into an extended pause."
::Science and tech::
Are synthetic human embryos a possibility?
Scientists have created "synthetic" mouse embryos from stem cells without a dad's sperm or a mom's egg or womb.
The lab-created embryos mirror a natural mouse embryo up to 8 ½ days after fertilization, containing the same structures, including one like a beating heart.
A study published Thursday in the journal Nature, by Magdalena Zernicka-Goetz at the California Institute of Technology and her colleagues, was the latest to describe the synthetic mouse embryos. A similar study, by Jacob Hanna at the Weizmann Institute of Science in Israel and his colleagues, was published earlier this month in the journal Cell. Hanna was also a coauthor on the Nature paper.
"We are undoubtedly facing a new technological revolution, still very inefficient … but with enormous potential," said LluísMontoliu, a research professor at the National Biotechnology Centre in Spain who is not part of the research. "It is reminiscent of such spectacular scientific advances as the birth of Dolly the sheep" and others.
Zernicka-Goetz, an expert in stem cell biology, said one reason to study the early stages of development is to get more insight into why the majority of human pregnancies are lost at an early stage and embryos created for in vitro fertilization fail to implant and develop in up to 70% of cases. Studying natural development is difficult for many reasons, she said, including the fact that very few human embryos are donated for research and scientists face ethical constraints.
Building embryo models is an alternative way to study these issues.
To create the synthetic embryos, or "embryoids," described in the Nature paper, scientists combined embryonic stem cells and two other types of stem cells – all from mice. They did this in the lab, using a particular type of dish that allowed the three types of cells to come together. While the embryoids they created weren't all perfect, Zernicka-Goetz said, the best ones were "indistinguishable" from natural mouse embryos. Besides the heart-like structure, they also develop head-like structures.
"This is really the first model that allows you to study brain development in the context of the whole developing mouse embryo," she said.
The roots of this work go back decades, and both Zernicka-Goetz and Hanna said their groups were working on this line of research for many years. Zernicka-Goetz said her group submitted its study to Nature in November.
::Sports::
US Open Men's singles draw: Nadal, Medvedev favourites in Djokovic's absence
The 2022 Grand Slam calendar ends the way it started. The only difference being that Novak Djokovic's fate wasn't a surprise. America's Covid-19 protocols denied the Serb an entry into the country for the US Open 2022, forcing him to withdraw from the tournament just hours before the men's singles draw was announced, leaving Rafael Nadal the only multiple US Open winner on the list. 
This also implies that the remainder of the draw is wide open, leaving an opportunity at hand for defending champion Daniil Medvedev, rising star Carlos Alcaraz, a rejuvenated Nick Kyrgios along with StefanosTsitsipas, MatteoBerrettini and Taylor Fritz.
A year back Medvedev stunned Djokovic in straight sets to claim his much-awaited maiden Grand Slam title. But the next 12 months haven't been in favour of the Russian. Going two sets up against Nadal in the Australian Open final, Medvedev conceded the lead and subsequently the title. 
Despite a Wimbledon ban for Russian players, Medvedev was part of the grass-court season where he suffered two unexpected defeats in the Rosmalen and Halle final. He was expected to get his season back on track in the North American summer swing where he has excelled in the last three years, but lost to Kyrgios in the first round of Canadian Open and to Tsitsipas in Cincinnati Masters semis. Medvedev will begin his campaign against 110th-ranked Stefan Kozlov before a potential Kyrgios meeting awaits in the pre-quarters.
Download Monthly General Awareness PDF
Download SSC EXAMS EBOOK PDF
PRINTED Study Notes for SSC CGL Exam
Click Here for Daily Current Affairs Archive