Current Affairs for SSC CGL Exams – 25 July 2022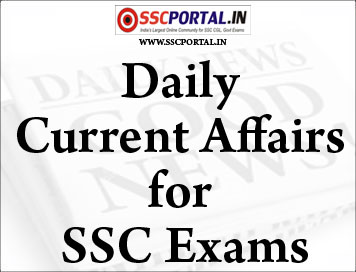 Current Affairs for SSC CGL Exams – 25 July 2022
::NATIONAL::
India to set up joint theatre commands of tri-services: Rajnath Singh
Defence Minister Rajnath Singh on Sunday announced the setting up of joint theatre commands of the tri-services to enhance coordination among the armed forces.
The defence minister also said India is moving quickly from being the world's largest importer of defence equipment to an exporter.
He was speaking during a programme organised by the Jammu Kashmir People's Forum here to pay tributes to the martyrs of the Indian Armed Forces.
"Keeping in view (joint operations as seen in Operation Vijay in Kargil), we have decided to set up joint theatre commands (in the country)," Singh said.
Paying tributes to the Kargil martyrs, the defence minister said the country cannot forget their supreme sacrifice to safeguard the country's territorial integrity and sovereignty.
"It is the duty of the society and the people to give their utmost respect to the martyrs and their families," he said.
"Whatever support you can offer, do to for their families. It is the responsibility of each citizen," he added.
Referring to the defence production, Singh said, "India was the world's largest importer (of defence products). Today, India is not the world's largest importer but is among the top 25 nations engaged in defence exports," he pointed out.
::INTERNATIONAL::
California Governor declares emergency over wildfire near Yosemite
A fast-moving brush fire near Yosemite National Park exploded in size Saturday into one of California's largest wildfires of the year, prompting evacuation orders for thousands of people and shutting off power to more than 2,000 homes and businesses.
The Oak Fire started Friday afternoon southwest of the park near the town of Midpines in Mariposa County and by Saturday had grown to nearly 19 square miles (48 square kilometers), according to the California Department of Forestry and Fire Protection, or Cal Fire.
It erupted as firefighters made progress against an earlier blaze that burned to the edge of a grove of giant sequoias in the southernmost part of Yosemite park.
Evacuation orders were put in effect Saturday for over 6,000 people living across a several-mile span in the sparsely populated, rural area, said Daniel Patterson, a spokesman for the Sierra National Forest.
Governor Gavin Newsom proclaimed a state of emergency for Mariposa County on Saturday due to the effects of the Oak Fire.
Explosive fire behavior is challenging firefighters, Cal Fire said in a statement Saturday that described the Oak Fire's activity as extreme with frequent runs, spot fires and group torching.
By Saturday morning, the fire had destroyed 10 residential and commercial structures, damaged five others and was threatening 2,000 more structures, Cal Fire said. The blaze prompted numerous road closures, including a shutdown of Highway 140 between Carstens Road and Allred Road blocking one of the main routes into Yosemite.
California has experienced increasingly larger and deadlier wildfires in recent years as climate change has made the West much warmer and drier over the past 30 years. Scientists have said weather will continue to be more extreme and wildfires more frequent, destructive and unpredictable.
::ECONOMY::
Tata says Port Talbot may close without £1.5 billion from UK govt: Report
Indian steel giant Tata Steel Ltd. may close sites including Port Talbot unless it receives £1.5 billion ($1.8 billion) in support from the UK government, the Financial Times reported.
Natarajan Chandrasekaran, Tata Group chairman, said the firm had been in talks with the government for two years over funding for Tata's transition to greener steel production.
"We should come to an agreement within 12 months. Without this, we will have to look at closures of sites," Chandrasekaran told the newspaper.
Port Talbot is the UK's biggest steelworks and employs some 4,000 people.
The steelworkers' union Community said Tata's comments were "shocking" and had been made without consultation with unions.
"For months we've been in discussions with the company, but we should be clear there is no agreement on the decarbonisation roadmap," a Community spokesperson said in a statement.
Allies of UK business secretary Kwasi Kwarteng say he wants to help steelmakers, including Tata, decarbonise the industry, but believes future subsidy decisions must be taken by a new Conservative leader and prime minister, according to the Financial Times.
Tata Steel's quarterly profit from January to March jumped 47% as demand for the alloy boomed, the firm said in May. The company announced a stock split amid a sharp run-up in its share price.
::Sports::
IOC threatens to suspend IOA if it fails to conduct elections amid concerns
Concerned at the state of affairs of the Indian Olympic Association, the International Olympic Committee has threatened to suspend the governing body if it fails to conduct its election within the coming weeks.
"The IOC and the OCA have been following, with great concern, the latest developments affecting the Indian Olympic Association," IOC said in its letter to all the members of the IOA executive council.
"Should the IOA fail to fulfil its obligations and be unable to organise its quadrennial elections properly within the coming weeks, the IOC will, unfortunately, have no other option but to consider appropriate protective measures vis–vis the IOA, including a suspension, until the IOA can operate as normal and hold its elections in accordance with the Olympic Charter and the IOA Constitution.
"We sincerely hope that the IOA will now act accordingly and responsibly, in the interest of the Olympic Movement and the athletes in India, and we look forward to receiving your immediate response and confirmation of the next steps," it said.
The IOA elections were due in December last year but could not be held as per schedule due to ongoing amendments in the election process.
Last December, IOA had formed a six-member committee to look into the amendments to be made to its constitution before holding elections so as to align it with the National Sports Code.
In May this year, Narinder Batra was removed as IOA chief after the Delhi High Court struck down the post of 'life member' in Hockey India, courtesy of which he had contested and won the apex body elections back in 2017.
Batra later officially resigned as IOA President. After he was removed by the High Court, Batra had issued a statement, announcing his decision not to contest the IOA elections.
In the letter, IOC said "it is very unfortunate to note that multiple legal proceedings have been initiated, which have only caused delays and created unnecessary complications so far".
IOC, in its letter, said "the IOA should have addressed and solved these institutional issues internally, through the IOA's competent governing bodies, in accordance with the IOA Constitution and as per our recommendations and the usual approach that prevails within the Olympic Movement."
Download Monthly General Awareness PDF
Download SSC EXAMS EBOOK PDF
PRINTED Study Notes for SSC CGL Exam
Click Here for Daily Current Affairs Archive