Current Affairs for SSC CGL Exams – 25 June 2022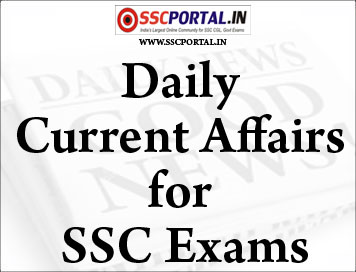 Current Affairs for SSC CGL Exams – 25 June 2022
::NATIONAL::
Vehicle safety rating system to be out in April 2023
Four months after it was announced, the government has made the first formal move to introduce the country's own vehicle safety rating system based on crash tests. The upcoming Bharat new car assessment programme (NCAP) will be rolled out from April 1 next year (2023) and will mean auto manufacturers in India as well as importers will have the option of getting cars star rated within country.
In a series of tweets on Friday, Union minister for road transport and highways NitinGadkari said he has approved the draft GSR notification to introduce Bharat NCAP, wherein automobiles in India shall be accorded star ratings based upon their performance in crash tests.
The draft notification seen by HT stated that Bharat NCAP shall act as an "authority" that will authorise testing agencies to conduct evaluation on type approved passenger vehicles. A portal will be created for the public to check star rating of all the vehicles through Bharat NCAP. The testing agency shall send a report to Bharat NCAP after completion of the evaluation process and after receiving the assessment report, the authority (Bharat NCAP) shall upload the new car star rating on the portal for the public.
Global NCAP is an umbrella body that facilitates cooperation among new car assessment programmes globally. Since it is a private firm, officials in the transport ministry said the government has proposed to call it "Bharat NCAP" in India.
"Bharat NCAP will serve as a consumer-centric platform allowing customers to opt for safer cars based upon their star-ratings, while promoting a healthy competition among OEMs in India to manufacture safer vehicles.
Star rating of Indian cars based on crash tests is extremely crucial not only to ensure structural and passenger safety in cars, but to also increase the export-worthiness of Indian automobiles," Gadkari said in a tweet.
"Bharat NCAP will prove to be a critical instrument in making our automobile industry Aatmanirbhar with the mission of making India the Number 1 automobile hub in the world," the Union minister said.
::INTERNATIONAL::
Boris Johnson in crisis after Tories lose in UK polls
British Prime Minister Boris Johnson denied he was worried that some of his ministers might seek to move against him while he was out of the country at summits in Rwanda and Germany, following election losses overnight.
"I hope that in London – I know that in London – ministers … are getting on with the job of sorting out the cost of living pressures that people face, are delivering on our agenda for change and reform and improvement," Johnson told a news conference.
Asked if he was concerned about Conservative lawmakers who were not ministers seeking to oust him, Johnson said no.
On Friday, Johnson refused to bow to renewed demands to quit, after his Conservatives suffered two crushing defeats in Westminster elections and a staunch ally resigned. In a letter to Johnson, party chairman and cabinet member Oliver Dowden said "somebody" had to shoulder the blame for "recent events".
That was widely seen as a reference to "Partygate" and other scandals dogging the prime minister, who only narrowly survived a no-confidence vote this month among Tory MPs.
But Johnson framed the election setbacks as mid-term blues for the Conservatives, as Britain contends with inflation reaching double-digit levels not seen since the 1970s. National strikes by railway workers this week have added to the sense of crisis.
::ECONOMY::
Rapid transition to clean energy could create 15 mn jobs by 2025: Report
A swift shift from fossil fuels to clean energy could lead to creation of 1.5 crore new jobs in India by 2025 and increase savings on electricity bills, a new report released ahead of the G-7 leaders' summit said.
The report, 'Creating Jobs and Cutting Bills: the economic opportunities of a clean energy transition', published by the 'We Mean Business Coalition' and Cambridge Econometrics, said India could witness eight dollars or 10 per cent reduction in per capita energy expenditure by 2025 when compared with business as usual scenario.
The reduction in per capita energy expenditure in India is projected to be 34 dollars or 31 per cent by 2030 and 74 dollars or 52 per cent by 2035 from the business as usual scenario, it said.
On the jobs front, the report said a rapid transition to clean energy could create 1.5 crore new jobs by 2025 from the business as usual scenario.
The report also asked them to commit to 100 per cent sales of zero emissions by 2035 for new light duty vehicles and increase public spending for energy efficiency.
"With heatwaves hitting communities across the world, the climate emergency is more evident than ever. People want to see solutions now, " MariaMendiluce, CEO, We Mean Business Coalition, said.
"To protect the world's citizens from climate and economic disaster, we urge G7 leaders to implement the policies outlined in this report now," she said.
"The modelling illustrates the potential benefits if G7 leaders follow through on their commitments to accelerate the energy transition. What they choose this week could set in motion investments and policies needed to drive the clean energy transition at the pace required to halve their emissions by 2030," Jon Stenning, Head of Environment, Cambridge Econometrics, said.
  ::Science and tech::
India's latest communication satellite GSAT-24 successfully launched
The GSAT-24 satellite, built by ISRO for NewSpace India Limited (NSIL), was successfully launched by French company Arianespace from Kourou in French Guiana (South America).
GSAT-24 is a 24-Ku band communication satellite weighing 4180 kg with pan-India coverage for meeting DTH application needs.
It was the first "demand driven" communication satellite mission undertaken by NSIL post space sector reforms.
NSIL, a Government of India company under the Department of Space, has leased the entire satellite capacity to Tata Play.
GSAT-24 was launched on-board Ariane-V VA257 flight from the Guiana Space Centre, Europe's spaceport in Kourou.
::Sports::
Tejaswin Shankar now in CWG squad but awaits final clearance from IOA
The Athletics Federation of India (AFI) informed the Delhi high court that high jumper Tejaswin Shankar was included in India's team for the Commonwealth Games, subject to the Indian Olympic Association increasing the quota of the athletics contingent.
Shankar, who is studying in the United States, achieved the AFI set qualification standard of 2.27m at the National Collegiate Athletic Association (NCAA) championships at Eugene, Oregon recently, representing Kansas State University.
However, AFI excluded him from the squad, saying neither the mark came in a meet in India nor he had asked for an exemption from competing at home. Shankar, who also holds the national record in the event (2.29m), filed a writ petition in court saying he had asked for exemption from chief coach Radhakrishnan Nair and that his credentials as a medal prospect for the country at the Birmingham Games cannot be overlooked. The court had asked AFI to consider his selection.
Download Monthly General Awareness PDF
Download SSC EXAMS EBOOK PDF
PRINTED Study Notes for SSC CGL Exam
Click Here for Daily Current Affairs Archive