Current Affairs for SSC CGL Exams -26 August 2022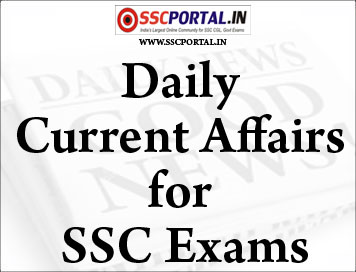 Current Affairs for SSC CGL Exams – 26 August 2022
::NATIONAL::
India-Tanzania to hold bilateral talks on defence cooperation
Union defence minister Rajnath Singh will hold bilateral talks with the Tanzanian defence and national service minister Stergomena Lawrence Tax.
Both ministers will review the defence cooperation between the two countries.
"During the bilateral talks, the two ministers will review the defence cooperation between the two countries and explore new avenues including Defence Industry Cooperation to further strengthen bilateral engagements.," union defence ministry said in a statement.
India and Tanzania signed anMoU in 2003 for progressing activities for defence cooperation between countries.
The Tanzanian minister will also visit Hyderabad and meet with representatives from the Indian defence industries such as Ordinance Factory Medak, Bharat Dynamics Limited and Zen Technologies Limited.
Both countries share high-level economic, business and commercial ties. They conducted the second round of Foreign Office Consultations in June this year.
They reviewed the bilateral economic, defence, people-to-people, cultural, trade and investment and other areas of mutual interest.
He reaffirmed India is doing its bit to fight all forms of terrorism and make the region peaceful, secure and stable. SCO has China and Pakistan as its member states.
::INTERNATIONAL::
Women's Equality Day: 'Gender equality for a sustainable tomorrow'
Women's Equality Day is celebrated every year on August 26 in the United States in order to honour the women of America for gaining the constitutional right to vote. The day honours the 'Nineteenth Amendment' made to the US constitution in 1920 to give equal voting rights to women. This year's theme for Women's Equality Day is "Gender equality today for a sustainable tomorrow."
The White House in a proclamation on August 25 said that "on Women's Equality Day, we honor the movement for universal suffrage that led to the 19th Amendment, celebrate the progress of women over the years, and renew our commitment to advancing gender equity and protecting women's rights."
It further added that the "commitment is more important than ever in the wake of the Supreme Court decision to overturn Roe v. Wade and eliminate a woman's constitutional right to choose." US president Joe Biden also called upon "the people of the United States to celebrate and continue to build on our country's progress towards gender equality, and to defend and strengthen the right to vote."
The day was chosen to be honoured as Women's Equality Day after a resolution put out by New York congresswoman Bella Abzug in 1973. The proclamation granting American women the constitutional right to vote was signed by Bainbridge Colby – the then secretary of state in 1920. The day was first celebrated in 1971 and was established by Congress in 1973. Since then, every US president has made a proclamation honouring the day.
::ECONOMY::
Centre signs long-term fertilisers import deal with Saudi Arabia
India and Saudi Arabia on Thursday signed a pact for an annual supply of 2.5 million tonnes of ammonia and DAP, NPK fertilisers for the next three years.
Announcing the development in a series of tweets, Chemicals and Fertilisers Minister MansukhMandaviya said Indian cooperative KRIBHCO has signed an agreement for investment in a new phosphate project of Saudi Arabia's largest mining firm Ma'aden.
"With this, Indian companies have secured a 2.5 million tonnes annual supply of key raw materials like ammonia and finished fertilizers like DAP, NPKs for the next 3 years," the minister tweeted.
A joint declaration was made to commit for the long-term supply of up to 1 million tonne of Di-ammonium phosphate (DAP) and NPKs per annum to KRIBHCO, he said.
The collaboration includes joint development in agronomy, logistics solutions and product development to support farmers of both India and Saudi Arabia.
The tie-up will add even more energy to India-Saudi Arabia friendship and benefit the hard-working Indian farmers, he added.
::Sports::
Satwik-Chirag assure India's first men's doubles medal at BWF World C'ships
SatwiksairajRankireddy and ChiragShetty on Friday scripted history by becoming the first Indian pair to win a medal in men's doubles competition at the World Championships after upsetting world number 2 TakuroHoki and Yugo Kobayashi of Japan in the quarterfinals in Tokyo.
The world number 7 Indian combination, which had claimed the Commonwealth Games gold medal earlier this month, outwitted the local favourites and defending champions 24-22 15-21 21-14 in an hour and 15 minutes to claim its maiden medal at the prestigious tournament.
It was India's second World Championships medal in the doubles event with JwalaGutta and AshwiniPonnappa claiming a bronze way back in 2011 in the women's doubles.
Having assured themselves of at least a bronze, Satwik and Chirag will now face the sixth seeded Malaysian pair of Aaron Chia and SohWooiYik in the semifinals.
Download Monthly General Awareness PDF
Download SSC EXAMS EBOOK PDF
PRINTED Study Notes for SSC CGL Exam
Click Here for Daily Current Affairs Archive