Current Affairs for SSC CGL Exams – 26 July 2022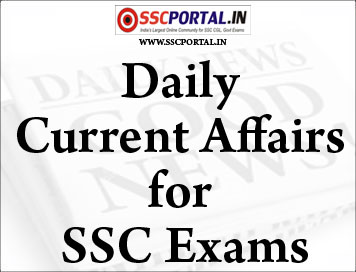 Current Affairs for SSC CGL Exams – 26 July 2022
::NATIONAL::
Kharif sowing affected in Gangetic plains due to scant rains in July
Rajasthan chief minister Ashok Gehlot congratulated farmers on July 25 on the abundant rainfall thus far this monsoon. Rajasthan has indeed received uncharacteristically abundant rainfall this monsoon, as has most of India. This has boosted kharif (the monsoon crop) sowing in most parts of the country.
The data on paddy sowing this monsoon is available only up to July 15 and does not show if things have changed in the past week. However, up to the middle of the month, paddy sowing, which accounts for almost a third of the kharif acreage, was doing worse than in most recent years. The situation was not much better for pulses either, although by July 22 (partial data on pulses is available up to this date) total pulse sowing was 0.55 million hectare more than last year. The delay in paddy sowing in particular could be because of the trend in four states in the Gangetic plains: Uttar Pradesh, Bihar, Jharkhand, and West Bengal. These states account for at least a third of kharif paddy acreage in India, and the crop's sowing progress in these states is far behind the trend in recent years at this time of the monsoon.
Slow paddy sowing in the Gangetic plains is a result of scanty July rainfall, the month when monsoon usually takes hold over the region. This year, most of the region ran deficits in excess of 60% in the first two weeks of July despite the monsoon arriving on schedule. This is why paddy sowing appears to be lagging up to the middle of the month.
Could the situation have improved in the second half of July? It is possible that the second half of the month is faring better than the first, but the signs are not very encouraging. Although covering a smaller area than the first two weeks, large parts of the region had a deficit of 60% or more in the week ending July 21 too. 
There has been more correction in the last three days – July 22 to July 24 – with more places in the Gangetic plains getting normal or surplus rainfall. However, this trend is unlikely to continue throughout the rest of the month. As an HT analysis pointed out earlier, the deficit in rainfall over this region earlier this month was because the monsoon trough – a low pressure system that causes rainfall during monsoon – had shifted southward. 
The IMD has forecast similar conditions from July 25 to July 27, with at least Uttar Pradesh not likely to receive much rainfall during this period.
Reservoirs can make up for temporary deficits in rainfall, and can possibly help farmers who irrigate their fields. However, because the Gangetic plains have been running dry for most of this monsoon, even the storage in reservoirs is not good in some states of this region. In reservoirs monitored by the Central Water Commission (CWC), Bihar and Jharkhand are deficient or have a deficit of at least 20% compared to the last 10 years' average.
::INTERNATIONAL::
Several Indian-origin persons charged in insider trading cases in US
Several Indian-origin persons have been charged with insider trading on Monday in three separate alleged schemes in which they made more than five million dollars in illegal profits.
Amit Bhardwaj, 49, the former chief information security officer of Lumentum Holdings and his friends Dhirenkumar Patel, 50, Srinivasa Kakkera, 47, Abbas Saeedi, 47, and Ramesh Chitor, 45, have been charged by the Securities and Exchange Commission. The SEC alleges that these persons, all residing in California, traded ahead of two corporate acquisition announcements by Lumentum and generated more than USD 5.2 million in illicit profits.
In another action, the SEC alleges insider trading by investment banker Brijesh Goel, 37 and his friend Akshay Niranjan, 33, both of New York, who was a foreign exchange trader at a large financial institution.
The SEC alleges that the two men, close friends from business school, made more than USD 275,000 from illegally trading ahead of four acquisition announcements in 2017 that Goel learned about through his employment. The complaint further alleges Niranjan purchased call options on the target companies and later wired Goel USD 85,000 for Goel's share of the proceeds.
"If everyday investors think that the market is rigged at their expense in favour of insiders who abuse their positions, they are not going to invest their hard earned money in the markets," said Gurbir S Grewal, Director of the SEC's Enforcement Division. "But as today's actions show, we stand ready to leverage all of our expertise and tools to root out misconduct and to hold bad actors accountable no matter the industry or profession. That's what's required to restore investor trust and confidence."
The SEC's complaints charge all nine defendants with violating the antifraud provisions of the securities laws and seek permanent injunctive relief, disgorgement with prejudgment interest, and civil penalties. In all three cases, the SEC's investigation is ongoing.
::ECONOMY::
Interest payment by govt. rises 3.1% of GDP to Rs 7.31 trillion in FY22
Interest payment of the government has increased to 3.1 per cent of the GDP to Rs 7.31 lakh crore in 2021-22, Minister of State for Finance Pankaj Chaudhary told the Lok Sabha.
Interest paid on public debt during 2014-15 stood at 3.27 lakh crore or 2.6 per cent of the GDP, he said in a written reply.
This increased to Rs 138.88 lakh crore or 58.7 per cent of GDP at the end of 2021-22, he said.
The Centre's debt is projected to hit 60.2 per cent of the GDP in the current fiscal to Rs 155.33 lakh crore, he said in reply to another question.
The combined state and central government liabilities increased from Rs 76.27 lakh crore (61.2 per cent of GDP) in 2014-15 to Rs 195.49 lakh crore (82.6 per cent of GDP)
Budget Management (FRBM) Act the government would endeavour to ensure that the general government debt does not exceed 60 per cent of GDP and the Central Government debt does not exceed 40 per cent of GDP by the end of the financial year 2024-25.
In 2020-21, the Central Government debt increased by more than 9 percentage points of GDP over the previous year's debt mainly on account of the COVID-19 global pandemic, which hugely disrupted projections of the Government's public finances, including a contraction in GDP/denominator, he said.
The Government has announced its commitment to reduce the fiscal deficit to a level below 4.5 per cent of GDP by FY 2025-26.
Increasing the buoyancy of tax revenue through improved compliance, monetisation of assets, improving efficiency and effectiveness of public expenditure etc. are the important measures initiated by Government to control the fiscal deficit and the debt, he said.
The risk profile of the Government's debt stands out as safe and prudent in terms of accepted parameters of indicator-based approach for debt sustainability, he said.
::Science and tech::
China launches Wentian, second of three space station modules
In the latest step in its ambitious space programme, China on Sunday launched the second of three modules needed to complete its new space station, news agency AFP reported citing state media.
Wentian was propelled by a Long March 5B rocket at 0622 GMT from the Wenchang launch centre on China's tropical island of Hainan.
Beijing launched the central module of its space station Tiangong — which means "heavenly palace" — in April 2021.
Almost 60 feet long and weighing 22 tonnes, the new module has three sleeping areas and space for scientific experiments.
It will dock with the existing module in space, a challenging operation that experts said will require several high-precision manipulations and the use of a robotic arm.
Wentian will also serve as a backup platform to control the space station in the event of a failure.
The final module to complete the space station is scheduled to dock in October, and Tiangong is expected to become fully operational by the end of the year.
The station will then assume its final T-shape, and be similar in size to the former Russian-Soviet Mir station.
The world's second-largest economy has poured billions into its military-run space programme, with hopes of having a permanently crewed space station and eventually sending humans to the Moon.
::Sports::
Wrestler Bajrang Punia complains over physio's CWG non-inclusion
After woman boxer Lovlina Borgohain, another Tokyo Olympics medallist, wrestler Bajrang Punia, has complained that his personal physio Anand Dubey has not been included in the contingent for the Commonwealth Games despite several request to the officials.
Punia, currently training in Michigan, US has Dubey with him. He said his request was forwarded by the Wrestling Federation of India but the Indian Olympic Association is yet to include him in the list.
"The federation has arranged a UK visa for my physio and he is with me here in the US but I don't know what will happen after that. He will travel with me to Birmingham but what is the point of having him if he is not given accreditation. He will not have access to venues," Punia said from his Michigan base.
"I have also spoken to IOA officials but so far nothing has happened," he said. Punia recovered from a knee injury only recently and needs a physio familiar with his condition.
Download Monthly General Awareness PDF
Download SSC EXAMS EBOOK PDF
PRINTED Study Notes for SSC CGL Exam
Click Here for Daily Current Affairs Archive