Current Affairs for SSC CGL Exams – 28 July 2022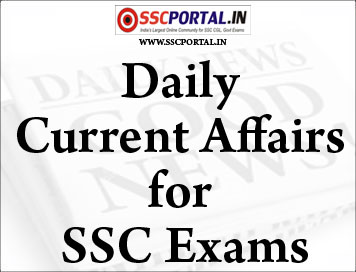 Current Affairs for SSC CGL Exams – 28 July 2022
::NATIONAL::
USAID chief says human rights, diversity part of India-US talks
USAID chief Samantha Power said that issues such as human rights and diversity form part of the US administration's dialogue with the Indian government, especially at a time of "headwinds in the face of freedoms" in many parts of the world.
Power, who was on a three-day visit to India to advance the bilateral strategic partnership and to discuss the global food crisis, was responding to a question at a news conference on the US not raising such issues with India in view of New Delhi's importance in countering regional challenges such as China.
There are "headwinds in the face of freedoms in many, many parts of the world", and India's civil society, its free press, free speech and free association are worthy of emulation by other countries, she said.
"So, it is incredibly important in this country and in the US for human rights to be respected, for diversity to be celebrated, and of course, that is part of the dialogue that we have with the Indian government. It is also something we are struggling with back in the US," she said.
Power described India as an "absolutely critical actor" in the Indo-Pacific and all over the world, and said "India's leadership beyond its borders" draws on the lessons and dynamism that it shows at home.
"There's no question that a major source of India's strength has been the potency and vibrancy of its civil society, the pluralism, the debates that have occurred here over so many decades…the rollicking media debates," she added.
In a speech on the theme "The world is one family", which was delivered before the news conference, Power said India has been positioned as a future development leader because of its values, and not just its assets.
Power added, "Yet the headwinds against democratic rule are strong the world over. Within the US and India, there are forces who seek to sow division; who seek to pit ethnicities and religions against each other; who wish to bend laws, abuse institutions, and wield violence against those who stand in their way.
"We saw this of course, on January 6 in the US, back in 2021…How the US and India rise to meet these injustices – how fiercely we protect our hard-won pluralism, how insistently we defend our democracy and individual rights – will determine not just our own trajectory but that of the world that we inhabit."
::INTERNATIONAL::
Protesters enter Iraqi parliament, chant curses against Iran
Hundreds of Iraqi protesters breached Baghdad's parliament Wednesday, chanting curses against Iran, in a protest against the selection of a nominee for prime minister by Iran-backed parties.
Many protesters were followers of an influential cleric. Some were seen walking on tables and waving Iraqi flags.
No lawmakers were present. Only security forces were inside the building and they appeared to allow the protesters in with relative ease.
The breach came amid the biggest protest since Iraqi elections were held in October. The demonstrators were protesting the recent nomination of Mohammed al-Sudani as the official nominee of the Coordination Framework bloc, a coalition led by Iran-backed Shiite parties and their allies.
Earlier Wednesday, demonstrators, many among them the followers of an influential cleric, breached Baghdad's heavily fortified Green Zone to protest the selection of a nominee for prime minister by Iran-backed parties.
Riot police used water cannons to repel demonstrators pulling down cement blast walls. But many breached the gates to the area, which houses government buildings and foreign embassies.
Riot police assembled at the doors to the main gates. Demonstrators crowded around two entrances to the Green Zone, with some scaling the cement wall and chanting, "Sudani, out!"
Caretaker Prime Minister Mustafa al-Kadhimi called for calm and restraint, and for protesters to "immediately withdraw" from the area.
The demonstrators were largely followers of influential Shiite cleric Muqtada al-Sadr, who recently stepped down from the political process despite having won the most seats in the October federal election. Protesters carried portraits of the cleric.
::ECONOMY::
Govt. likely to discuss price rise in Parliament next week, says report
Government has given indications that a discussion on price rise may be taken up next week in Parliament, sources in the opposition parties claimed on Wednesday.
They, however, said the government does not appear keen on a debate on the Agnipath military recruitment scheme and could evade the matter on the ground that it was sub judice.
The opposition parties have conveyed to the government that no discussion on the price rise issue "will be allowed" till their MPs remain suspended, the sources said.
While four Congress MPs have been suspended in the LokSabha for the rest of the session for disrupting proceedings, 19 MPs, including seven from the TMC, six from the DMK, three from the TelanganaRashtraSamithi, two from the Communist Party of India (Marxist), and one from the CPI were suspended for the rest of the week.
The government has maintained that the matter can be taken up once Finance Minister NirmalaSitharaman recovers from COVID-19 and returns to Parliament.
Opposition sources also claimed that feelers from the "other side" have indicated that there is a view within the government that suspending 19 opposition MPs at one go in RajyaSabha was a "wrong strategic move" and should have been avoided.
In fact, in the morning, RajyaSabha Chairman Venkaiah Naidu met leaders of the opposition parties and it was offered that if they express regret over their behaviour, a resolution will be brought to revoke the suspensions.
However, none of the leaders acquiesced. Instead, they said the government should express regret for not discussing price rise.
With the suspension of the MPs in RajyaSabha concluding on Friday, a discussion on price rise is likely to be taken up after that, they said.
::SCIENCE AND TECH::
Russia tells International Space Station pull out less imminent
Russian space officials have informed U.S. counterparts that Moscow would like to keep flying its cosmonauts aboard the International Space Station (ISS) until their own orbital outpost is built and operational, a senior NASA official told Reuters.
aken together with remarks from a senior Russian space official published on Wednesday, the latest indications are that Russia is still at least six years away from ending an orbital collaboration with the United States that dates back more than two decades.
A schism in the ISS program seemed to be closer at hand on Tuesday, when Yuri Borisov, the newly appointed director-general of Russia's space agency Roscosmos, surprised NASA by announcing that Moscow intended to withdraw from the space station partnership "after 2024."
Kathy Lueders, NASA's space operations chief, said in an interview that Russian officials later on Tuesday told the U.S. space agency that Roscosmos wished to remain in the partnership as Russia works to get its planned orbital outpost, named ROSS, up and running.
"We're not getting any indication at any working level that anything's changed," Lueders told Reuters, adding that NASA's relations with Roscosmos remain "business as usual."
The space station, a science laboratory spanning the size of a football field and orbiting some 250 miles (400 km) above Earth, has been continuously occupied for more than two decades under a U.S.-Russian-led partnership that also includes Canada, Japan and 11 European countries.
It offers one of the last vestiges of cooperation between the United States and Russia, though its fate has been called into question since Russia invaded Ukraine in February, straining bilateral relations on a variety of fronts as the Biden administration imposed economic sanctions on Moscow.
::Sports::
Tony Finau wins 3M Open by three with late surge, Scott Piercy collapse
After reading he was the betting favorite for the 3M Open, Tony Finau felt the pressure surprisingly mount in his mind as he sought to extend the momentum he has built this summer.
Playing catch-up proved to be the right formula for his third PGA Tour victory.
Finau shot a 4-under 67 to win the 3M Open by three strokes Sunday, erasing a five-stroke deficit with 11 holes left as Scott Piercy tumbled out of the lead down the stretch at windy TPC Twin Cities.
I expected myself to contend and win again this year, so to be able to do it this late in the season when you're running out of tournaments and you put that type of expectation on yourself, it's so satisfying, said Finau, who finished at 17-under 267.
Download Monthly General Awareness PDF
Download SSC EXAMS EBOOK PDF
PRINTED Study Notes for SSC CGL Exam
Click Here for Daily Current Affairs Archive