Current Affairs for SSC CGL Exams – 29 July 2022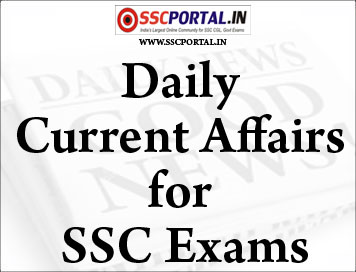 Current Affairs for SSC CGL Exams – 29 July 2022
::NATIONAL::
Smriti Irani meets Droupadi Murmu amid row over Cong MP's 'rashtrapatni' comment
Union minister SmritiIrani  visited the Rashtrapati Bhavan and met newly elected President of India Droupadi Murmu, a day after Irani raised – in the LokSabha – the issue of Murmu's insult by Congress leader AdhirChowdhury who referred to Murmu as 'rashtrapatni' . 
Smriti Irani paid a visit to Droupadi Murmu along with the ministers of state of her two departments — MahendraMunjpara, MoS for Women & Child Development and John Barla, MoS for minority affairs. "Had the privilege of calling upon the Honourable President of India Droupadi MurmuJi…" Smriti Irani tweeted. 'Rashtrapatni' row : A look at Adhir Chowdhury's past controversial statements
The Union minister on Thursday raised the issue of AdhirChowdhury's 'rashtrapatni' comment and held Congress interim president Sonia Gandhi responsible for the insult of DroupadiMurmu, the insult of the highest constitutional post, and the women and tribal of the country.
The uproar in the LokSabha turned into a bigger controversy after there was a brief exchange between Sonia Gandhi and SmritiIrani. Two different versions of what happened have emerged with the BJP accusing Sonia Gandhi of intimidating the BJP women MPs and the Congress accusing SmritiIrani of insulting and abusing Sonia Gandhi inside the House.
Adhir Chowdhury addressed President Droupadi Murmu as 'rashtrapatni' as he was giving an interview to a channel about the Congress's protest against the questioning of Sonia Gandhi by the ED. As he said meeting the President was part of their protest plan, he used the word 'rashtrapatni' instead of 'rashtrapati'.
::INTERNATIONAL::
Biden, Xi agree to hold face-to-face summit as tensions over Taiwan intensify
President Joe Biden and his Chinese counterpart Xi Jinping agreed to schedule their first in-person summit during a sometimes tense phone call Thursday where Xi warned the United States not to "play with fire" in Taiwan.
Although this was their fifth phone or video call since Biden took office a year and a half ago, the summit would be their first in-person meeting as leaders. No detail was given on the timing or location.
Biden and Xi "discussed the value of meeting face-to-face and agreed to have their teams follow up to find a mutually agreeable time to do so," a US official said, speaking on condition of anonymity.
Both sides described the call, which lasted two hours and 17 minutes, as a robust exchange on the many disputes between the world's two biggest economic powers.
China's state-run Xinhua agency said Xi delivered harsh words on US policy towards Taiwan, a democratic island with close ties to the United States but which China considers part of its territory.
Tensions around Taiwan are steadily escalating amid fears that Xi could ultimately order an invasion to impose Beijing's rule.
In the latest flashpoint, Chinese authorities are furious at unconfirmed plans by Biden ally and speaker of the House of Representatives, Nancy Pelosi, to visit the island.
Although US officials frequently visit Taiwan, separated by a narrow strip of water from the Chinese mainland, Beijing considers a Pelosi trip as a major provocation. She's second in line to the US presidency and given her position may travel with military transport.
::ECONOMY::
India got highest aid for trade from developed countries in 2020
India received the highest aid for trade in 2020 at $2.7 billion from developed countries even as the receipts declined during the pandemic year compared to $3.9 billion received in 2019.
The World Trade Organisation-led aid for trade flows is particularly meant for the least developed economies. It consists of official development support to build supply-side capacity and trade-related infrastructure to enable such countries to participate in international trade.
Bangladesh was the second largest recipient of the aid, followed by Egypt, Ethiopia, Kenya, Vietnam, Pakistan, Morocco, Myanmar and Indonesia, among others. Institutions such as the World Bank, European Union Institutions, Asian Development Bank, and developed countries such as Japan, United States, Germany, France are among the top donors for the aid.
Trade experts, however, said that while reports show that India–a developing country–receiving the maximum amount of aid under the WTO initiative may be an incorrect depiction.
"Funds disbursed to India under 'aid for trade' may not be an accurate depiction of what India has actually received (as aid). India is a part of a few bilateral cooperation agenda but that does not translate into aid from developed nations," a trade expert said, adding that the number published in the report may have included such bilateral arrangements.
::SCIENCE AND TECH::
IAF set to retire all 4 MiG-21 squadrons by 2025
The Indian Air Force is set to retire one of its four remaining squadrons of ageing MiG-21 fighter jets in September, with the other three scheduled to be phased out over the next three years, people familiar with the development.
The phasing out of the squadrons is not linked to the July 28 Barmercrash that killed two fighter pilots, but is part of an earlier air force plan to replace the MiG-21s with newer fighter jets, the officials said.
The squadron being retired in two months is the Srinagar-based No. 51 squadron, which is also known as "Sword Arms," said one of the officials cited above, asking not to be named. Wing Commander (now Group Captain) AbhinandanVarthaman, who was awarded Vir Chakra for shooting down a Pakistani F-16 during a dogfight over the Line of Control on February 27, 2019, was in the No. 51 squadron then.
The dogfight took place a day after IAF bombed a terror facility in Pakistan's Balakot.
Several MiG-21s have crashed in recent years with the accidents turning the spotlight on India's longest-serving fighter plane, its safety record and IAF's plans to replace the ageing jets with newer ones in the coming years.
The air force got its first single-engine MiG-21 in 1963, and it went on to induct 874 variants of the Soviet-origin supersonic fighters to bolster its combat potential. More than 400 MiG-21s have been involved in accidents that have claimed the lives of around 200 pilots during the last six decades, the officials said.
More MiG-21s have crashed than any other fighter because they formed the bulk of the fighter aircraft in the IAF's inventory for a long time, and the air force had to keep its MiG-21 fleet flying longer than it would have liked because of delay in the induction of new fighters, they added.
::Sports::
Lovlina stranded after leaving CWG opening ceremony midway, CDM not pleased
Olympic bronze medallist Indian boxer LovlinaBorgohain was left stranded for close to an hour after deciding to leave the Commonwealth Games opening ceremony midway. The ceremony on Thursday night went on for about two hours and Lovlina, along with another member of the Indian boxing contingent, Muhammad Hussamuddin, decided to leave early for the Games Village from the Alexander Stadium, a 30 minute drive.
"We want to train in the morning as we have a bout day after. The ceremony will go on for a while so we thought of leaving. We asked for a taxi but we were told that was not available," said Lovlina when PTI asked her why she was leaving midway.
With the ceremony still on and the duo unable to book a taxi on its own, Lovlina and Hussamuddin were left clueless on how to ride back to their accommodation.
They eventually took the first bus bound for the Village near the National Exhibition Centre.
The Indian delegation has been provided three cars by the organisers but their drivers were done for the day as the athletes and officials arrived for the opening ceremony in buses.
Download Monthly General Awareness PDF
Download SSC EXAMS EBOOK PDF
PRINTED Study Notes for SSC CGL Exam
Click Here for Daily Current Affairs Archive