Daily Questions Challenge for SSC CGL Exams -21 June 2022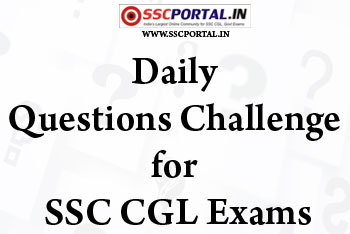 Daily Questions Challenge for SSC CGL Exams – 21 June 2022
1. Prime Minister Narendra Modi has released the book "Indian Constitution: The Untold Story" written by whom?
a.Ram bahadur rai
b.Vikram seth
c.Taslima nasrin
d.None of these
2.Where has the Centre for Brain Research (CBR) established at a cost of Rs 280 crores been inaugurated?
a.Hyderabad
b.Delhi
c.Bengaluru
d.Goa
3.Which player will lead the 37-member Indian athletics team in the upcoming Commonwealth Games?
a.P.v.sindhu
b.Muhammed Anas
c.Arokia Rajiv
d.Neeraj Chopra
Download Current Affairs PDF
Download SSC EXAMS EBOOK PDF
PRINTED Study Notes for SSC CGL Exam
Click Here For Current Affairs Archive
Answer: 1.(A),2.(C),3.(D)