Daily Questions Challenge for SSC CGL Exams -22 June 2022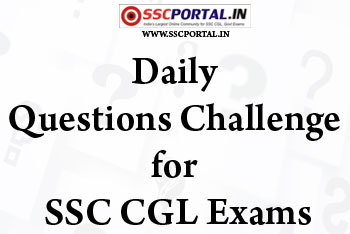 Daily Questions Challenge for SSC CGL Exams – 22 June 2022
1. In which city 47th meeting of the GST Council will be held?
a.Delhi
b.Srinagar
c.Chandigarh
d.Hyderabad
2.Who has topped the Times Higher Education Asia University Rankings 2022 released by Times Higher Education (THE)?
a.Jawahar lal university, India 
b.IISC Bangalore. India
c.Stanford University, America
d.Tsinghua University, China
3.Assam has become which number state/UT to implement the 'One Nation One Ration Card (ONORC)'?
a.36th
b.37th
c.38th
d.39th
Download Current Affairs PDF
Download SSC EXAMS EBOOK PDF
PRINTED Study Notes for SSC CGL Exam
Click Here For Current Affairs Archive
Answer: 1.(C),2.(D),3.(A)