Daily Questions Challenge for SSC CGL Exams -24 June 2022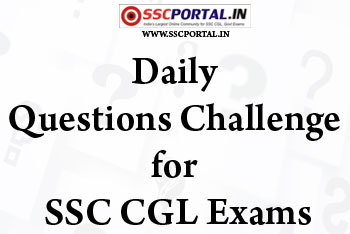 Daily Questions Challenge for SSC CGL Exams – 24 June 2022
1. The World Bank has approved a project worth Rs 1,000 crore to advance rainfed agriculture in the hilly regions of which state?
A.Himachal Pradesh
B.Uttarakhand
C.Sikkim
D.J&K
2.Who has been sworn in as the 27th Chief Justice of Himachal Pradesh?
a.Mohammad Rafiq
b.V. Ramasubramanian
c.A.M. Khanwilkar
d.Amjad Ahtesham Sayed
3.In which state the Union Culture Minister G Kishan Reddy has launched the festival "Jyotirgamaya"?
a.Delhi
b.Madhya Pradesh
c.Uttar Pradesh
d.Jharkhand
Download Current Affairs PDF
Download SSC EXAMS EBOOK PDF
PRINTED Study Notes for SSC CGL Exam
Click Here For Current Affairs Archive
Answer: 1.(B),2.(D),3.(A)